[COMMENTARY/WATCH] 'I Don't Go Out': Georgia Election Workers Testify to Traumatizing Harassment From Trump Supporters at Jan 6th Hearing
Thursday's televised January 6th Select Committee Hearing brought the most damning and emotionally powerful testimony so far. Georgia election officials testified to Donald Trump's blatant attempt to bully them into overturning his loss to Joe Biden, but also related how their unwillingness to commit voter fraud on his behalf led to threats on their lives and to their families.
While most people were looking forward to Brad Raffensperger and Gabriel Sterling speaking to Trump's phone call begging them to find 11,780 votes–and those moments were certainly important to show Trump's attempt to interfere and influence–it was the first and final two witnesses who made the biggest emotional impacts.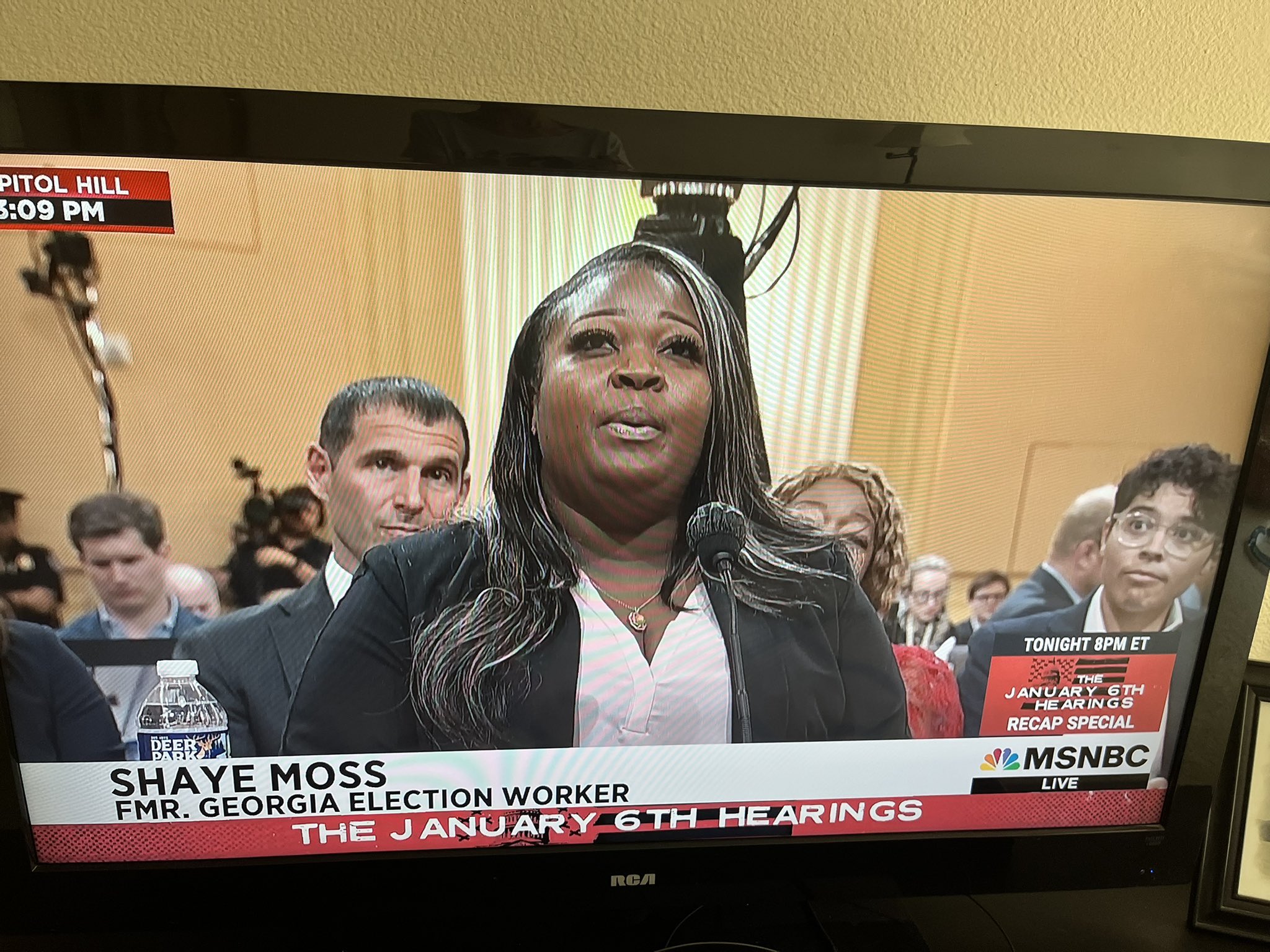 Arizona House Speaker Rusty Bowers testified that despite claims of election fraud, no evidence was given to him from Trump's legal team. Trump himself called Bowers several times in an effort to get him to change his mind, but as Bowers said, "I do not want to be a winner by cheating." Bowers also told Trump, "I supported you, I voted for you, but I'm not going to do anything illegal for you."
After Sterling and Raffensperger spoke, Georgia election worker Shaye Moss was sworn in and spoke to the harassment she and her mother, "Lady Ruby" Freeman, suffered at the hands of Trump supporters after both Rudy Giuliani and Trump himself pushed a false conspiracy theory that the two Black women had thrown away thousands of ballots with votes for Trump. The women were harassed and traumatized so terribly that they were forced into hiding for two full months. But even now, Shaye testified, she no longer goes out for fear of being recognized.
"There is nowhere I feel safe. Nowhere. Do you know how it feels to have the president of the US target you? … He targeted me, Lady Ruby, a small business owner, a mother, a proud American citizen, who stood up to help Fulton County run an election in the middle of a pandemic" pic.twitter.com/PeJcdw3J59

— Aaron Rupar (@atrupar) June 21, 2022
Watch this: Poll workers Shaye Moss and her mother, "Lady Ruby" Freeman, describe how being targeted by Trump and his allies destroyed their lives.

This should never have happened. #Jan6Justice #January6thCommitteeHearings pic.twitter.com/umzTWfPdNY

— People For the American Way (@peoplefor) June 21, 2022
Trump knew Shaye and Lady Ruby were innocent and still made the two Black women scapegoats for his loss.