[COMMENTARY/WATCH] Elie Mystal's Herschel Walker Drag is Hotter Than Georgia Asphalt
Herschel Walker is having a moment, as they say, but it's a really bad one. Between a recently unearthed Howard Stern interview from 2010 (where he talked about playing Russian Roulette with the same casual tone as bragging about an ex-girlfriend who could "handle" how "huge" he is) to his continued lies regarding his academic record, it's a wonder he had enough time to violate the Hatch Act along with his fellow Trump Brain Trust Senate candidate Dr. Mehmet "MEH" Oz.
Walker has still managed to raise a whopping $5.5 million for his campaign, just falling short of Sen. Raphael Warnock, who inherited the pulpit of Dr. Martin Luther King and has never been accused of spousal abuse. Aside from skipping out on the first debate because he can't remember simple facts, Walker's inexperience and ignorance of the basic inner workings of our government is just plain scary at a time when election security is at risk.
Herschel is super sensitive whenever anyone criticizes him. I know this from personal experience because one time I asked my fellow University of Georgia alum a question. It didn't go well. Also, his campaign manager doesn't like questions either, especially if that question is, "Hey, how come your candidate blocked me?"
Welp, now both Herschel Walker AND his campaign manager have blocked me 😂😂😂 #MAGAIsOver pic.twitter.com/DzXgXy5l5Q

— Tara Dublin 🇺🇦🌻 (@taradublinrocks) April 16, 2022
Enter into the Herschel Walker fray is the eternal walking brilliance that is Elie Mystal, which really sounds like the alter ego of a superhero. And really, Mystal is a hero of mine, because the man speaks truth to power at all times. I've always believed that the true voice of America is the Black voice, and Mystal brought all of the facts in his excellent and essential essay at The Nation about Walker, where he calls his very campaign an "insult to Black people" in the headline. And it only gets more fiery from there.
.@ElieNYC –Best-selling author/correspondent for The Nation–explained on my @SXMProgress show why he's insulted by Herschel Walker's candidacy for Senate given what it says about how white Republicans in Georgia truly view Black voters. pic.twitter.com/d5I6VkvORC

— (((DeanObeidallah))) (@DeanObeidallah) April 15, 2022
You can almost smell the grease traps from The Varsity working overtime, it's that hot. As someone who lived in Georgia for eight years–with a significant portion of those years spent at UGA–I get the "good ol boy" network that Mystal describes and the once-covert racism that's always been bubbling just under the surface spilling over. He makes the point that Georgia Republicans have never nominated a white football player from UGA with an actual diploma and a better record to the Senate, making it all the more obvious that Trump wants Walker simply for the optics against Rev. Warnock.
Herschel Walker is a caricature of what white Republicans think Black people look like. This shambling tool will not win Georgia for white folks. But voter suppression might, and it's not clear white media will spot the difference
My latest in @thenation https://t.co/faEFYlhJj6

— Elie Mystal (@ElieNYC) April 14, 2022
Also, it's just funny as hell: "But Walker can't match even Tim Scott's mediocre level of political acumen. He'd fumble a coffee order from Black conservatives Paris Denard and J.C. Watts. Omarosa freaking Manigault would make him literally cry—once he went home and Googled the words she used to insult him."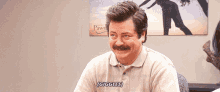 But Herschel claims he's not mad at Mystal. He's invited Elie down to Georgia (Trump's looking for a soul to steal) to "break bread" with him, as if he's some magnanimous holy man instead of a guy who was worried gay men would check out his package in the NFL showers. Herschel wants to talk to him about the good people of Georgia, even if he doesn't really know the first thing about taking care of them. Here's the master at work on MSNBC's "All In with Chris Hayes" with guest host Katie Phang. While all this heat is scorching, I still suggest you set your drink down so you don't end up spitting it all over your screen.