[COMMENTARY/WATCH] Donald Trump's No Good, Terrible, Very Bad Week
Donald Trump is on a losing streak, and it'll be interesting to see just how much losing his base can stand. You know, since they were promised so much winning, which is the literal opposite of what's been happening lately. Is your schadenfreude at your preferred temperature? Great, let's drink it up together as we dive in.
Basically, all of liberal Twitter has been like this all week: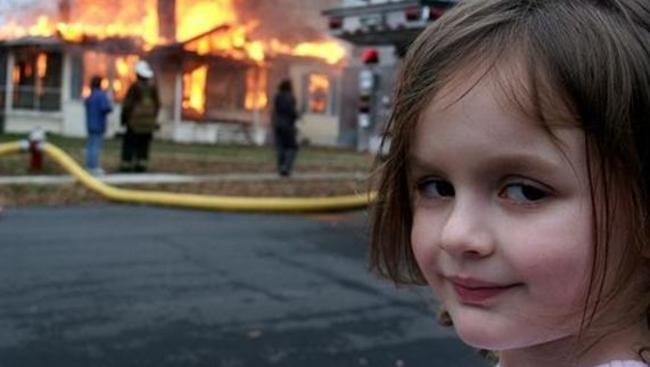 While Trump has been like this:
Sorry SO NOT sorry, King Baby. Karma must've been storing up a whole lot for you and your family in some storage unit in Long Island City, because it's all coming down now. There's pretty much no way to justify taking classified documents from the White House home with you to Florida, so there's that talking point for any Democrat running in the midterms. His base is also having a really hard time coming up with any false equivalence arguments to distract from being forced to comply with a subpoena. Also, everyone has already rolled out Trump's famous "Only the mob takes the Fifth" meme, despite Eric "Tweedledee AND Tweedledum" Trump already doing so over 500 times in his own deposition, so if Donald tries is, he'll get dragged all over the socials and he knows it.
#Trump: "In my administration I am going to enforce all laws concerning the protection of classified information."

It's been confirmed that materials recovered by the National Archives from Trump's Mar-a-Lago include classified information.

What now? #TheReidOut #reiders pic.twitter.com/vbcaEHlEqO

— The ReidOut (@thereidout) February 20, 2022
It's fun watching Trumpworld implode after four years of him twisting us all into anxiety knots on the daily. It's really hard to say who's enjoying it the most, but it's not really a contest when we're all winning here.
We have learned of evidence that Trump snuck some co-conspirators in the side door, so it will be interesting to see if they are reflected on the visitor logs. If not, more evidence that Trump was trying to conceal his plan — consciousness of guilt. https://t.co/us061NtVCd

— Daniel Goldman (@danielsgoldman) February 20, 2022
Can you taste that? It's definitely more delicious than those documents Trump ate, that's for sure.
The National Archives has consulted with the DOJ over Trump's improper removal of classified documents. Should they pursue a formal investigation?
"If I ate classified documents, as alleged against [Trump],"@RepTedLieu tells @MichaelSteele, "I would have been court-martialed." pic.twitter.com/DMwSkTpu98

— AYMAN (@AymanMSNBC) February 20, 2022
All of us are this perfectly smug freeze-frame of Joyce White Vance and Jill Wine-Banks, who have each clearly been enjoying the Trump schadenfreude as well. Let's watch!