[COMMENTARY] Twitter Drags Democrat 'One Term Sinema', McCarthy, Other GOP Over Tone-Deaf MLK Tweets
Do not adjust your screens, the hypocrisy you're seeing really is just that awful.
Republicans, who think it's fine to ignore their own voting base just to make it harder for people of color to elect more Democrats, took some time to honor Dr. Martin Luther King, Jr on Monday as the country marked the 93rd birthday of the slain Civil Rights leader. Every single member of the GOP who tweeted in remembrance of Dr. King also refuses to pass voting rights legislation, so Twitter showed them just what happens to Trumpocrites on their watch.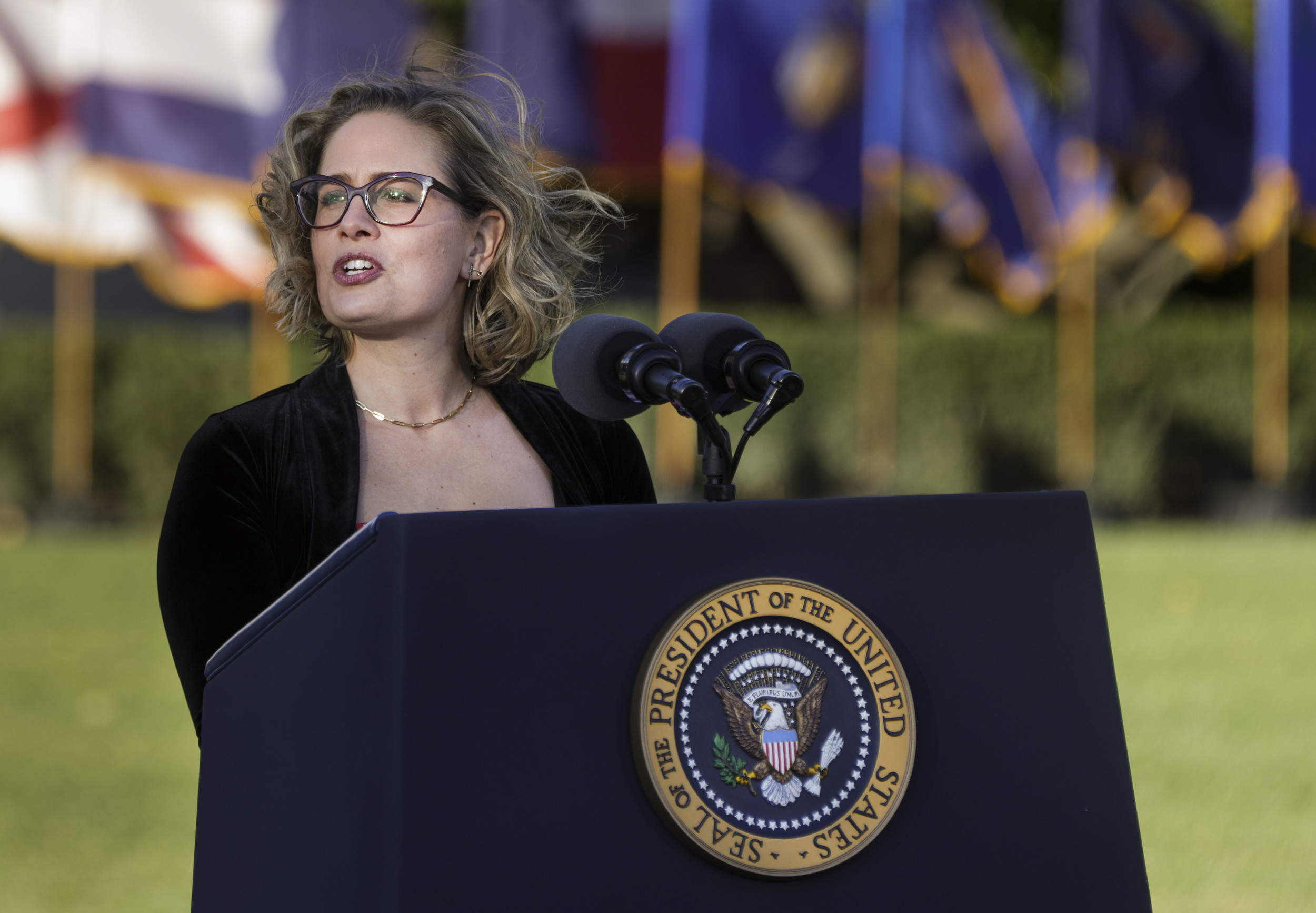 But the dragging wasn't just for the GOP, because Arizona Senator Kyrsten Sinema, who cares more about Party City than the Democratic Party, also completely misread the room by tweeting her own obtuse take. It's bad enough her state was the very last to recognize Dr. King's birthday as a holiday, but Sinema is also fine with pressing charges against young activists who could get deported. And then there's that whole being shamed for the rest of history by no less than Martin Luther King III, who let it be known that he'd rather not hear his father's name coming out of Sinema's mouth. Even Emily's List is all, "We don't know her" now.
Wow. Good on @emilyslist.

"Right now, Sen. Sinema's decision to reject the voices of allies, partners, and constituents who believe the importance of voting rights outweighs that of an arcane process means she will find herself standing alone in the next election." pic.twitter.com/Bu07SurZa2

— Brian Tyler Cohen (@briantylercohen) January 18, 2022
"They think the real problem isn't that our rights are being stolen—they think the real problem is a disease of division that can be cured with some optimism and conversation," Martin Luther King III said at a press conference on Monday. "My father worked to bring people together … But he knew that when someone is denying you your fundamental rights, conversation and optimism won't get you very far."
I could have replied to thousands of tweets with this yesterday, but I didn't. You all must have been praying for me :-). #MLKDay pic.twitter.com/IF4ToO8w64

— Be A King (@BerniceKing) January 18, 2022
But "One Term Sinema" went there anyway on MLK Day, and the resulting ratio is already a thing of legend.
Today we remember the life and legacy of Dr. Martin Luther King, Jr. #MLKDay

— Kyrsten Sinema (@SenatorSinema) January 17, 2022
Today Kyrsten Sinema learned about the ratio #OneTermSinema https://t.co/PfdDfcMjqF

— Tara Dublin Doesn't Have A Book Deal Yet #SignTara (@taradublinrocks) January 18, 2022
imagine being this proud of being this tone deaf

— Jeff Tiedrich (@itsJeffTiedrich) January 17, 2022
It got so much whiter, though.
📢 Our collective BS meters just spiked.

You forgot the part about how you are working as hard today as the elected representatives of Jim Crow south did in the 1950-60s to disenfranchise voters of this great land. #VotingRightsAct #JohnLewisVotingRightsAdvancementAct

— Christopher Burgess (@burgessct) January 17, 2022
Yeah, he did. That one was so bad, House Democrats called him out for it.
This pathetic hypocrite spends 364 days a year opposing voting rights, and then shamelessly tweets this today. https://t.co/6muMrmrZM7

— Eric Swalwell (@ericswalwell) January 17, 2022
Hot tip, sitting members of Congress who still tweet: pass voting rights and no one will drag you (for that, anyway). It's as simple as that!
"If you really, truly want to honor Dr. King, don't dishonor him by using a Congressional custom as an excuse for protecting our democracy." @SpeakerPelosi

We must pass voting rights legislation to honor the work of Dr. King and his family.#VotingRightsForMLK #MLKDay #MLK pic.twitter.com/oWkwanYMj9

— Ted Corcoran (RedTRaccoon) (@RedTRaccoon) January 17, 2022