[COMMENTARY] Trump's Self-Published Memoir Gets Scorching Review
https://twitter.com/RonCharles/status/1492186745248563200
When Donald Trump couldn't find a mainstream publisher for his coffee table book, he made his older son become a partner with a longtime Republican operative in a new money-laundering scheme–I mean, a new publishing company–called Winning Team Publishing to release it themselves. No one is going to stand in the way of Trump's next grift, don't you know.
But maybe this isn't the way to fill those ever-emptying legal coffers, because Trump's base is pro-book burning, not pro-book learning. Trump was at least savvy enough to use more pictures than words–oh how he knows his audience–but even then, it's still a giant pile of hot garbage printed out on shiny paper. And now Washington Post book critic Ron Charles has written a gorgeously scathing review of "Our Journey Together" (except not the journey from the rally to the Capitol, because he went and hid in the White House and watched "The January 6th Fighty Show" on TV while eating his afternoon snack) that will probably live in the annals of internet greatness along with the review of Guy Fieri's restaurant and Lindy West's definitive take on "Love, Actually."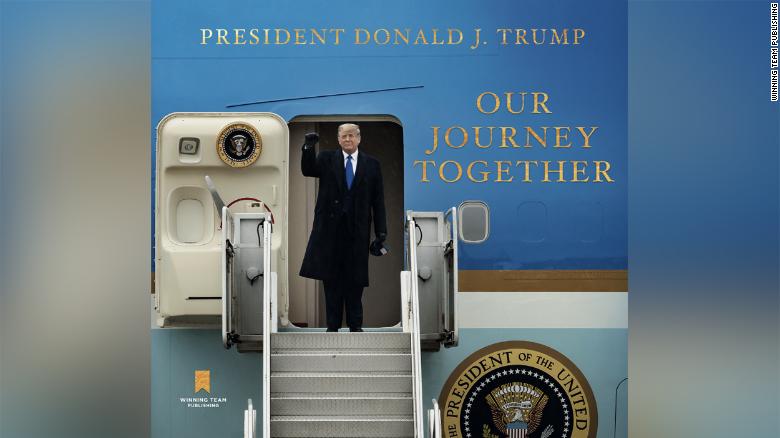 The glory of this review is that it describes the book exactly as you've probably imagined it just from the brief description and that ridiculous cover photo. The opening line (Last June, in a moment of unintentional honesty, Donald Trump said, "I'm writing like crazy.") really sets it up for you. It's the stuff of pure genius. Bravo, Mr. Charles:
Presidential scholars of the future will also be perplexed by the ordering of these photos. Weirdly, the first White House official to be featured in the book is Ronny L. Jackson, the physician who was accused of creating a hostile work environment, drinking on the job, and passing out drugs like candy. Soon after comes a photo of Fox News opinion host and Trump cheerleader Sean Hannity, whose relevance to the administration needs no explanation. On page 61, there's a happy picture of Trump walking with Saudi Arabia's crown prince, Mohammed bin Salman, who, according to the CIA, approved the murder of journalist Jamal Khashoggi. The chilling logic of these selections is surely more revealing than Trump realizes.
It just gets better from there, but I won't spoil any of it for you. I knew Trump's Treason Diary would be a suckfest, but this review not only validates my presumptions, it's also everything I didn't know I needed to read about how terrible that book is. A LOT of self-published books are terrible, but not all of them are marked up to $280 because someone dragged his Sharpie over it with one hand while the other held a Big Mac (probably). Also, it makes me feel slightly less bitter about not yet being anointed with a book deal of my own for my non-political rock & roll love story with absolutely zero treason in it, which means I'll probably keep getting ignored but Josh Hawley will keep getting to publish his crap, it's fine.
"Winning Team Publishing Company" by the twice impeached, one term former guy who LOST the election, the House and the Senate! 😂😂😂😂
I'm on the floor! 😂😂😂😂 pic.twitter.com/i9gzryjn0q

— KB in the PNW-Resisting since 1964 (@KirstyBain65) February 9, 2022
Suddenly, the Republicans' idea to ban books just because we don't like what's in them doesn't seem that bad.