[COMMENTARY] Trump Wants Herschel Walker to Run for Senate in GA
Once David Perdue announced he wouldn't challenge Raphael Warnock for his Senate seat in the 2022 Midterms, Republicans found themselves without an early candidate they could back. Warnock must run again, unlike his colleague Jon Ossoff, because he was finishing out the term Kelly Loeffler had been appointed to after Johnny Isakson resigned in 2019. Both Loeffler and her former colleague (and her former opponent to run against Warnock) Doug Collins are both emerging as frontrunners, but someone who used to have a gig in Washington made a statement on Wednesday with his own idea as to whom should actually run. And he suggested someone who can run really fast.
From his home in Florida where he can no longer tweet, the Former Guy released a statement asking the kind of rhetorical question he loves to ask, because it's meant specifically to stir the pot, not because he ever has a real answer, although he believes he has a solution to a problem no one asked him to help out with. He used to do this on Twitter all the time, winding people up and then pretending he had no idea what he was doing, he was just asking a question because he heard other people talking about it, uh huh.
So anyway, this time his question was, "Wouldn't it be fantastic if the legendary Herschel Walker ran for the United States Senate in Georgia?"
And I'm here to tell you that the answer is a resounding NO, because despite winning the Heisman Trophy in 1982 for his excellent record between the hedges at the University of Georgia (my alma mater, for full disclosure, and to speak ill of Walker is to invoke some seriously bad Southern Gothic mojo, but since I'm 3000 miles from campus, I think I'll be okay), Walker knows nothing about politics and has demonstrated this serious lack of knowledge on his own Twitter account. This one about the Capitol Insurrection is…wow.
Have you noticed were not talking about election fraud and election integrity now? Seems like this was well planned to shut everything down and run the clock out.

— Herschel Walker (@HerschelWalker) January 6, 2021
But hey, Trump has a great big trial looming in Atlanta, so why not use a beloved son of Athens as a literal human distraction? Trump just loves to use other people as human shields (hi, Lindsey Graham, Ted Cruz, Kevin McCarthy, Rudy Giuliani…you see where I'm going), and if that person is also a person of color, Trump and the Republicans can play out the "See? We're not racists!" act they always do when the person of color in question is also a really famous millionaire.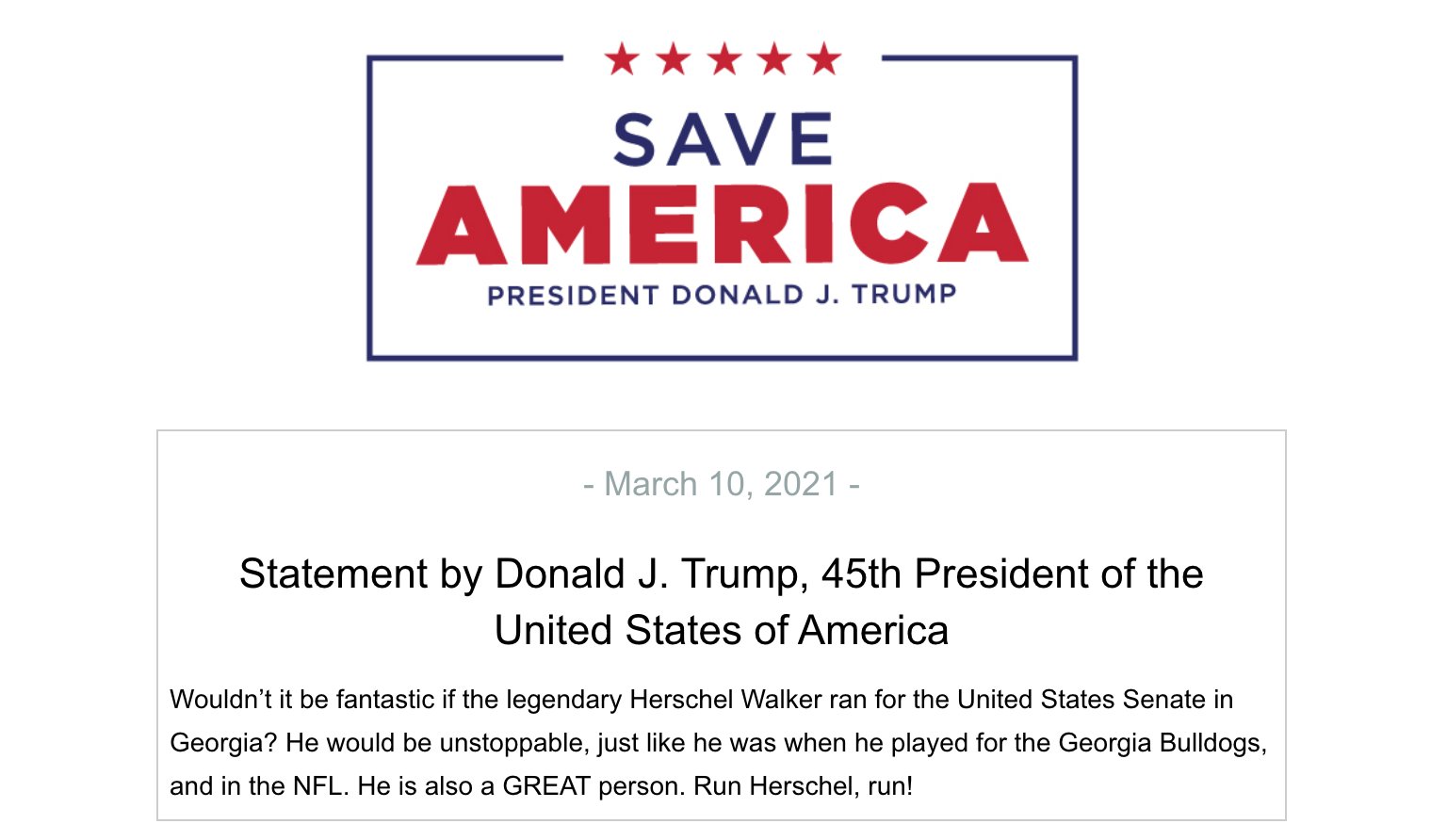 Any time Trump thinks something is GREAT, it's usually terrible. And Walker would be a terrible candidate because he doesn't understand how the government works, which is also a sentence I wrote about Trump about a bajillion times starting in mid-2015, so who knows how this will play out.
In the meantime, Twitter has some thoughts about all this as well.
Herschel Walker is a buck dancing, foot shuffling, step and fetch it, butter biscuit eating, Uncle Ruckus and white supremacy apologist.

— Bishop Talbert Swan (@TalbertSwan) March 11, 2021
Footage of Herschel Walker preparing to run for U.S. Senate in Georgia: pic.twitter.com/SESxCfWikh

— #InternationalWomensDay 🍥🇨🇮 🇺🇸 (@DaKontradiction) March 11, 2021
Which Herschel do you want to run? Walker was diagnosed with dissociative identity disorder (DID), a mental disorder also known as multiple personality disorder. People with this illness display at least two, distinct personality traits accompanied by extreme memory gaps.

— Jennifer Minton (@jiffypop2109) March 10, 2021
This is Herschel Walker's mansion in Westlake, Texas. It's worth over $4 million. After Loeffler struggled to appear relatable, running another rich person doesn't seem like a smart idea for Georgia Republicans. pic.twitter.com/nLhOyijqkh

— Drew Savicki 🦖🦕🦖 (@SenhorRaposa) March 10, 2021
Herschel Walker for Georgia?

The man who boasts about a 37-year "deep personal friendship" with Donald Trump.

The man who said racism is not Donald Trump.

The man who supported Donald Trump in 2016 and 2020.

No, thank you.

— The Hummingbird 🐦 (@SaysHummingbird) March 11, 2021