[COMMENTARY] Trump Tries the 'Coffee Boy' Treatment on Cassidy Hutchinson's Jan 6th Testimony
The shockwaves from former White House aide Cassidy Hutchinson's testimony before the January 6th House Select Committee on Tuesday won't be subsiding any time soon thanks to the multiple bombshell revelations she dropped throughout the three televised hours.
Hutchinson's testimony gave us all a peek into Trump's pattern of erratic behavior, painting him as an easily triggered overgrown toddler making demands of everyone no matter how much he was told "No." Now, you might say you knew that already. And while you did, none of us knew Trump was so far gone, he didn't care about weapons in the crowd because he knew he wasn't their target. He also tried to choke his own Secret Service detail after being pulled back from attempting to grab the steering wheel of the presidential limo. He knew his supporters were going to riot and chase down his Democratic opponents, possibly even killing House Speaker Nancy Pelosi and his own Vice President, and I guess he wanted to watch up close instead of on TV.
Once he was wrassled back to the West Wing, Lil Donny was supposed to have lunch and then nap, but Cassidy Hutchinson testified he was still so big mad that he threw his plate of McNuggets and fries against the White House Dining Room wall (okay, we don't know if he was having McNuggets. But we do know there was ketchup on the wall, and that ingrate doesn't eat anything he can't dip in ketchup, so I'm going with the nuggets. Maybe dino-shaped).
The altercation Cassidy Hutchinson described in the presidential vehicle wasn't the first time that Trump was angered about issues relating to the presidential election. pic.twitter.com/m3GpmlUWJF

— January 6th Committee (@January6thCmte) June 28, 2022
These little details are the most convincing kind. We have no problem believing the sworn testimony of Trump's former special assistant. However, Trump was already pulling the old "I don't know her" card even before the hearing was over, posting a whole bunch of laughably pathetic word salad under a gaslight on his failing Truth Social app.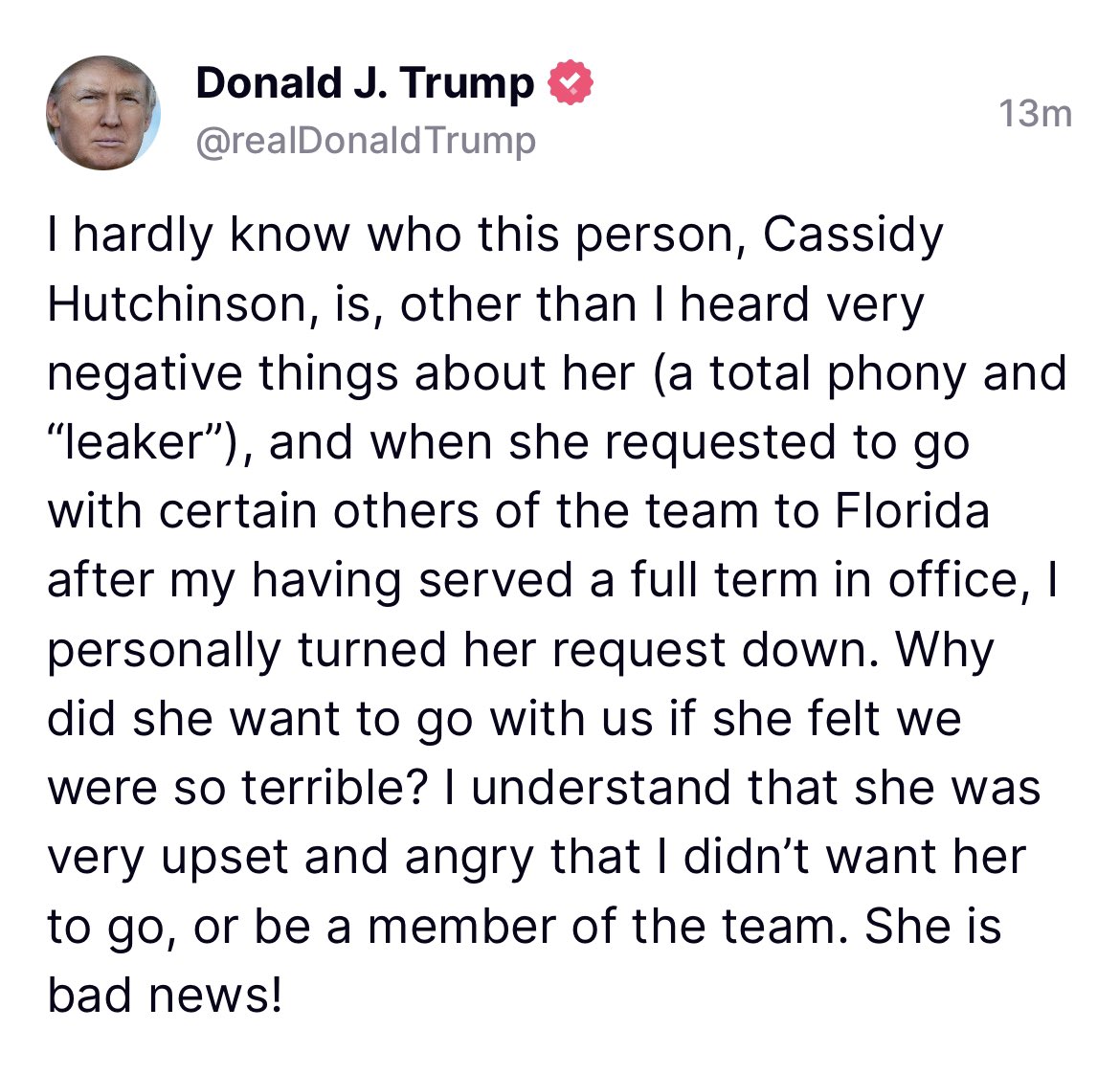 Trump has a history of doing all of the things Cassidy Hutchinson testified she saw him do. Also, it seems like Marjorie Taylor Greene is super worried about the other things Cassidy told the Committee, like that pardon she's pretending she didn't ask for. Projection won't keep you out of prison, Perjury.
Rep. Marjorie Taylor Greene is urging Trump to sue Cassidy Hutchinson over her damaging testimony today before the Jan. 6 Committee. pic.twitter.com/LI0Sbvuzt3

— Right Wing Watch (@RightWingWatch) June 28, 2022
I mean, tell me you're terrified of prison without telling me you're terrified of prison, Marjorie Manson. Oh, and you too, King Baby. The more you say someone is lying about you, the more truthful it is. Trump legitimately couldn't stop posting about the hearing on Tuesday. That means it's allll true.
Trump can't stop posting on Truth Social 😂 pic.twitter.com/nzFC5RV1wr

— Gabe Sanchez  (@iamgabesanchez) June 28, 2022
Keep your schadenfreude at a constant temperature, Dear Reader. There's plenty to last the rest of the week.
Fox: "This committee is going to subpoena that Secret Service Agent. The President was furious, angry and unhinged and he knew about the weapons. There's criminal implications involved."

— Hoodlum 🇺🇸 (@NotHoodlum) June 28, 2022
Muhahahahahaha.