[COMMENTARY] Trump Makes Another Desperate Attempt to Frame Pence for Jan 6th
If Donald Trump wants to be seen as the star of his own reality show, it's fair to say this may be the final season as supporting cast members are dropping like compliant flies.
While many of Trump's closest allies have either given some info to the January 6th Committee or have been penalized for not doing so, it was just learned that Mike Pence's Chief of Staff, Marc Short, has already given his testimony to the panel, making him the most dangerous former ally the Former Guy has at the moment. And what happens when Trump gets scared that his secrets will publicly be revealed? That's the Very Special Episode where he releases some dumb statement where even the most casual student of humanity can see the projection language flying off of the charts.
The first thing Donny Projection Language does when his fee-fees get hurt is lash out, and his will lackey Liz Harrington–who has yet to be suspended from Twitter despite sharing Trump's statements and blocking everyone who dares confront her (yes, Dear Reader, including yours truly). There was already this admission of guilt that went out on January 30th, yet he hasn't be picked up at the Mar-A-Lago breakfast buffet quiet yet.
Ever since I saw this Trump statement I've been wondering what the Jan 6 committee will do with it. They've been investigating a possible conspiracy to overturn the election, and here's the key man admitting, yep, that's what he was going for. https://t.co/1PbU9Ymbrk

— Garrett Haake (@GarrettHaake) January 31, 2022
This is what they cobbled together from the alphabet magnets on Lil Donny's fridge on Tuesday: "So pathetic to watch the Unselect Committee of political hacks, liars, and traitors work so feverishly to alter the Electoral College Act so that a Vice President cannot ensure the honest results of the election, when just one year ago they said that 'the Vice President has absolutely no right to ensure the true outcome or results of an election,'" Trump whined. He also claims that because Democrats want to put further election protections in place in the event someone wants to steal the election again, it means someone could have changed the election results on January 6th.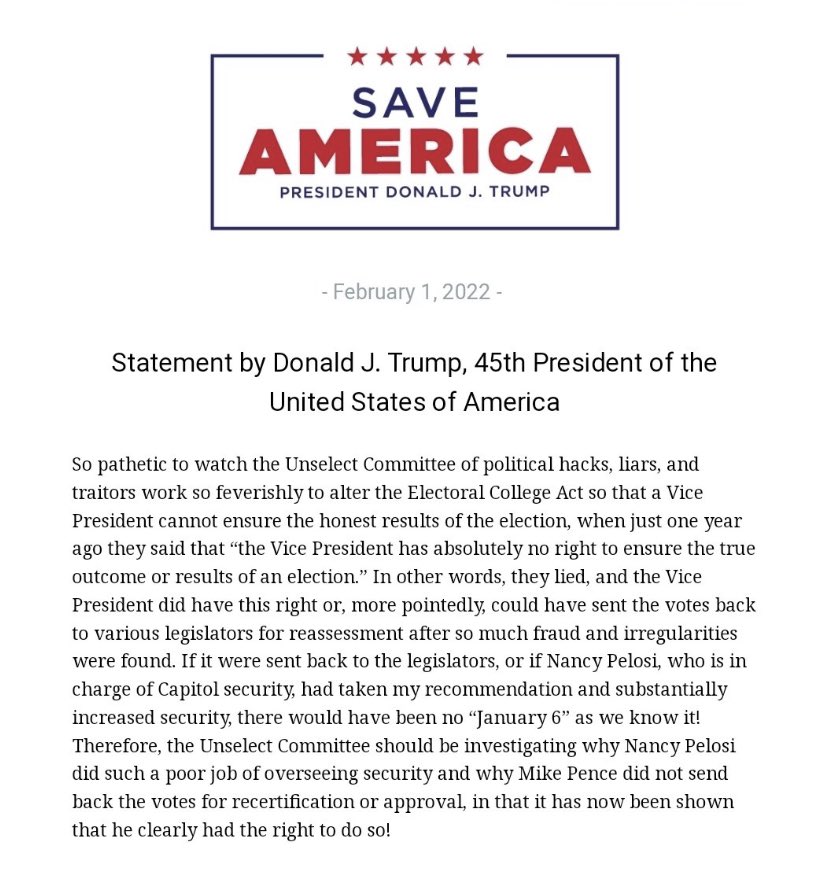 Yeah…so about that not having any executive privilege thing anymore? When does that actually get put into practice? It's not like we don't know where he is. He's big mad and big scared because he's in big trouble. And that makes him big dangerous, because he still has a big and motivated base just looking for a fight right about now.
The National Archives has turned over taped up and torn up Trump WH records to 1/6 committee, agency confirms in a statement – noting Trump's reported habit of ripping up official WH docs.

First reported by @JaxAlemany @jdawsey1 @AmyEGardner pic.twitter.com/YAHGCJsHj1

— Ben Siegel (@bensiegel) January 31, 2022
Trump has always told us exactly what he's been doing the whole time. He's just running out of bodies to throw in front of the bus that will never stop heading right for him. What happens when he finally finds himself without any human buffers between himself and legal consequences?
Trump confessed to the whole plot to overturn the election, both at his rally, and in his statement.

At his rally he also encouraged his supporters to protest if he got indicted.

It's not time to be spineless, as he has admitted his guilt now.#ArrestTrumpNow❗#DemVoice1 pic.twitter.com/pVMIkHvLR1

— Tony #DemVoice1 (@TonyHussein4) January 31, 2022