[COMMENTARY] Trump Flips Out Over Arizona Audit Results Giving Even More Votes to Joe Biden
The Cyber Ninjas have spoken, and Donald Trump isn't happy about it.
The Former Guy continues to insist the 2020 election was stolen from him, even after a draft report from the Arizona "forensic audit" shows, once again, he was beaten by Joe Biden. The Republican-led state Arizona Senate ordered the audit that has been plagued with irregularities and credibility issues from the start, and draft reports that circulated Thursday evening showed fewer votes for Trump and even more for Biden than previously counted — but that didn't stop the twice-impeached one-term president from claiming vindication, because truth is anathema to the right.
"Huge findings in Arizona!" Trump announced through his spokeswoman, Liz Harrington, since he's still banned from Twitter for spreading election lies. "However, the Fake News Media is already trying to 'call it' again for Biden before actually looking at the facts — just like they did in November! The audit has uncovered significant and undeniable evidence of FRAUD!"
BREAKING: The #azaudit draft report from Cyber Ninjas confirms the county's canvass of the 2020 General Election was accurate and the candidates certified as the winners did, in fact, win.

— Maricopa County (@maricopacounty) September 24, 2021
"Until we know how and why this happened, our Elections will never be secure," he added. "This is a major criminal event and should be investigated by the Attorney General immediately."
LMAOOO the Arizona scam audit conducted by the Cyber Ninjas actually found more votes…

For President Biden! 🤣🤣🤣

— BrooklynDad_Defiant! (@mmpadellan) September 24, 2021
Trump can't ever admit defeat, because it would signal an end to the long con he's been working on for the last 74 years of his life, as well as cutting off the supply of endless donations he's been grifting from his base.  The final report will be released Friday afternoon, and Trump has already cited unsubstantiated rumors to support his claims, kind of exactly like he was saying the election would be rigged even before a single vote had been cast. "I have heard it is far different than that being reported by the Fake News Media," he said.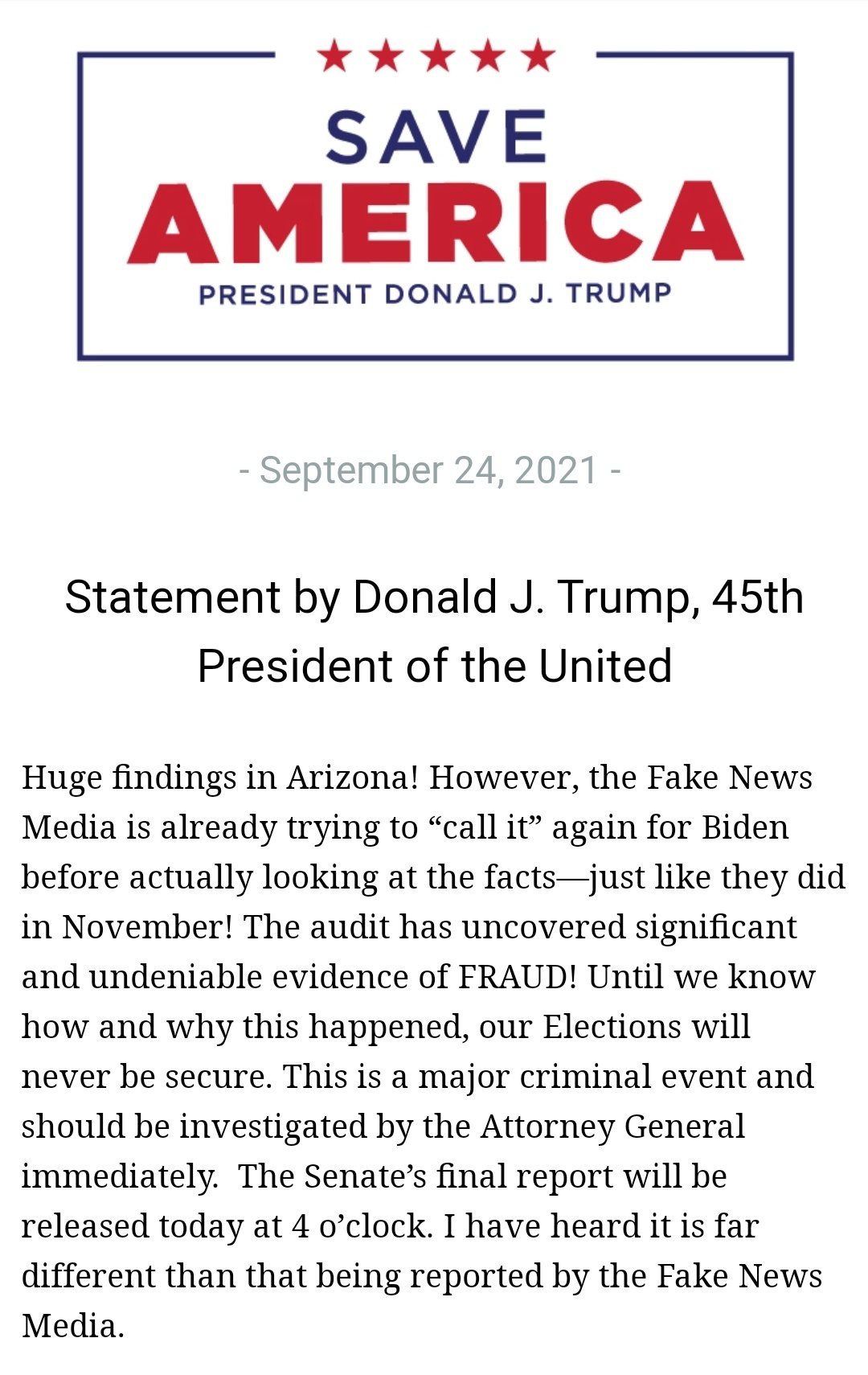 Sure, lil buddy.
The Cyber Ninjas' so-called audit was never legitimate. Nothing they write or say will change that.

What's sad is that the conspiracy theorists running our state have wasted our time and money, rather than solving real problems.

It's time for new leadership in Arizona. #fraudit

— Katie Hobbs (@katiehobbs) September 24, 2021