[COMMENTARY] The Party That Whines About Cancel Culture Just Blocked A Major Liberal Twitter Account
The delicate Snowflake Trumpocrites of the MAGA wing of the GOP have been really showing their true selves ever since Joe Biden took office, making his life as miserable as possible while still emulating the bullying tactics from their Dear Leader. If they're not blaming the President for the gas prices that are actually Putin's fault, they're taking credit for the good things he's done while still putting up all the obstruction they can get away with in Congress.
While he was still in office, Donald Trump got himself into plenty of hot Twitter water by blocking American citizens and verbally harassing others while also spreading dangerous disinformation. Full disclosure: I was blocked by Trump in September of 2015 and he never unblocked me before he was permanenty suspended, despite the order from the DOJ. You can't FOIA request the White House, so I'll never know why the Giant Rancid Orange Man was ascared of the 5-foot-tall girl from Twitter with the 7-foot-mouth, but Donny Thin Skin really said it all without saying anything.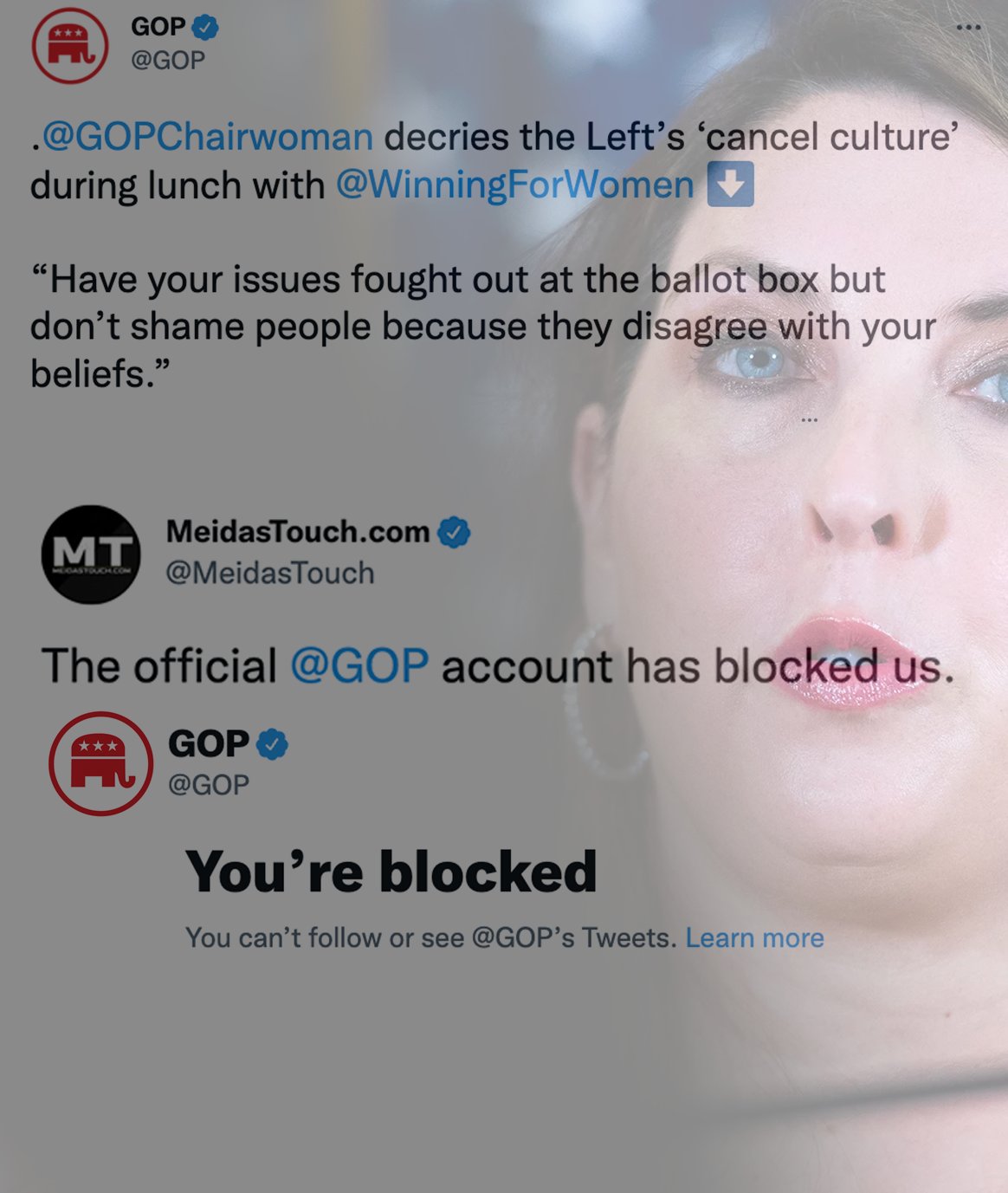 One thing that we haven't seen yet is the GOP blocking Americans from their official @GOP Twitter account, although we've certainly seen plenty of their members doing it. It's weird how these champions for free speech and the First Amendment like to play fast and loose with those takes when the speech includes words they don't like, such as "traitors." Or when someone just speaks the actual truth of how things happened. But like all Republicans, they like to cottonpick certain documents for their specific arguments as needed. But what are we to make of the GOP blocking a major political powerhouse like our pals Meidas Touch? Because that happened on Thursday.
The official @GOP account has blocked us. pic.twitter.com/OI4jfCxPMS

— MeidasTouch.com (@MeidasTouch) March 10, 2022
So delicate. So fragile. So precious. BRB, I'm going to get some satin pillows full of angel feathers for Ronna Romney & Co to rest their easily hurt butts upon.
Now THAT'S a Defiant L right there 😏#GOPCowards #GOPBlockedMeidas https://t.co/AnKOouEMYe

— Tara Dublin 🇺🇦🌻 (@taradublinrocks) March 10, 2022
Meidas has already been down this road with Marjorie Taylor Greene, who was forced to unblock them and any other Twitter users she had blocked (including yours truly), plus she had to pay them $10,000, which they of course donated. Lauren Boebert also unblocked me when I called her office to threaten my own lawsuit. It's fun to play Constitution with people who claim to protect it yet don't understand it while they constantly violate it! The fragility is so real. Here's my own personal collection of blocks, with a few caveats below.
*Thomas Massie has unblocked me, because I called his office to complain.
*Scott Baio unblocked me last month after SIX YEARS just to send his "Baio Army" after me and I look forward to my eventual re-block
*No, Russell Crowe isn't a Republican, but he sure doesn't like it when he's reminded that he said it's okay to hit women but it's never okay to hit women.
*Same energy with Bill Cosby's social media team