[COMMENTARY] The Best People, Said Only the Worst Person: Jenna Ellis Joins Mastriano's Team
WARNING: paying close attention to Trump's remaining cult members may cause your brain to cry. Proceed with caution because the stupid, it burns white-hot. 
We know that the literally worst people have aligned themselves with Donald Trump, forming a political clown car full of substandard sub-bottom feeders who have spread stupidity along with dangerous and deadly misinformation with the same level of glee they take in bullying Democrats. Since they can't ever face the actual truth (Trump lost, in case you're taking the ostrich way out), the remaining members of Cult 45 are naturally gravitating toward each other. And that's how Dumb Doug Mastriano ended up hiring "lawyer" Jenna "I'll Just Make Up My Own Laws" Ellis (who screams about her patriotism and free speech but blocked your intrepid writer so long ago, I can't remember which truth I told her about herself set her off).
Ennyhoo, Dumb Doug is one of those super-Jeebusy Christian Nationalist MAGA types, in all of the cults at once and being all busy denying anything resembling reality. Dumb Doug and Jerky Jenna are so dumb, they STILL say they believe Trump won, when we've really established by now that totally wasn't the case and never will be no matter what you wear while not honoring that whole "separation of church and state" thingie.
Note: Trump lawyer Jenna Ellis on Trump Team Nutty, said today she is now a senior legal advisor to Pennsylvania Republican Gubernatorial candidate Doug Mastriano – a dangerous Donald ally. May Josh Shapiro win resoundingly in PA in November.

— Barbara Malmet (@B52Malmet) June 13, 2022
Seriously, that tie bugs me. Keep your church out of my government, please. Unless you want to finally tax it, then we can talk.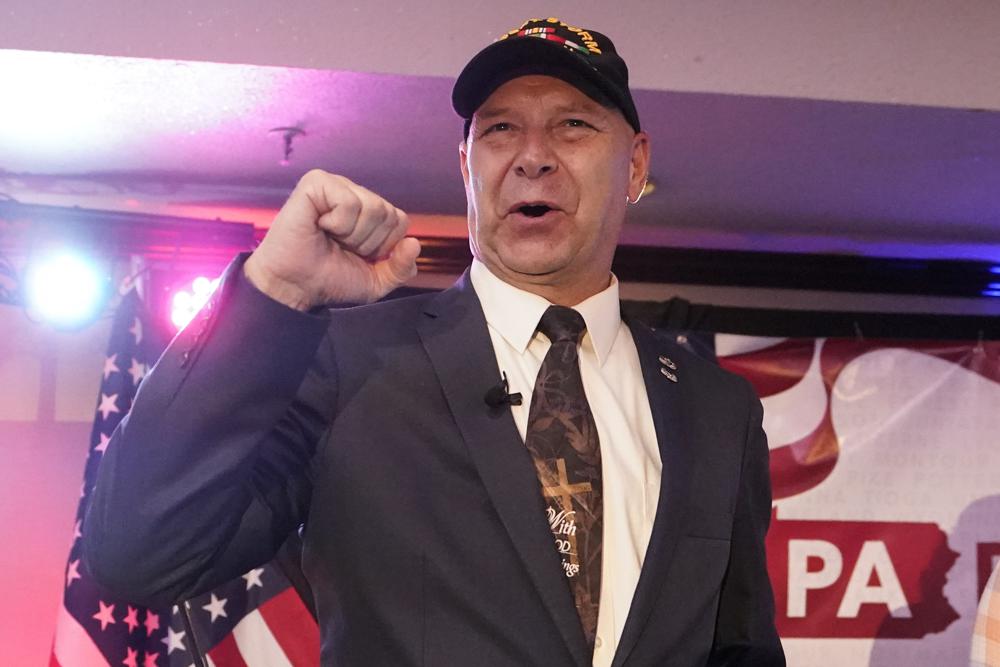 So I guess the rest of Mastriano's campaign for GOVERNOR OF PENNSYLVANIA while still denying Joe Biden is President will include more Qrazy now that Jenna is around to help churn up a ton of something out of nothing just as a distraction. I don't want to know what it is, but it'll happen, just watch.
Nice lawyer, @SenMastriano #TrumpCoupAttempt pic.twitter.com/zlQHaVl18V

— Tara Dublin ☮️🇺🇦🌻 (@taradublinrocks) June 13, 2022
For now, I'd just ask you to contact your pals in PA and ask them to vote for Josh Shapiro, for all that is right in this unjust world.
The January 6th Committee today heard testimony from Bill Barr on how Doug Mastriano spread lies about the 2020 election.

Mastriano is now the Republican nominee for Governor in Pennsylvania, where the 2024 election will be decided.

This isn't normal, and we can't let it slide.

— Josh Shapiro (@JoshShapiroPA) June 13, 2022