[COMMENTARY] Madison vs Maddow: Cawthorn Thinks Rachel Is 'Scared' To Have Him On Her Show
Rachel Maddow isn't scared of much, except perhaps anything bad happening to her longtime partner, Susan Mikula. But don't tell that to any of the mediocre men from the right who use projection language to cover up their own fears of the brilliant MSNBC anchor who also happens to literally be a Rhodes scholar.
Mediocre Madison "You Did Nazi Me Coming" Cawthorn, one of several high-school dropouts who somehow ARE IN CONGRESS RIGHT NOW, has a major problem with reading anything for context, so it's understandable that he couldn't grasp the basic language in an email from one of Maddow's producers that somehow has gotten into the public domain.
In a nutshell served with the tiniest grain of salt because of the source material, there was an email mix-up and Maddie got his hands on a missive from the senior producer, who had accidentally copied a member of the North Carolina Republican's team. According to a Monday report from Fox News (yuuup), the producer seemed to want to avoid an uncomfortable discussion if Cawthorn ever reached out to book an appearance on the show. And quick aside, why would he even want to? Rachel Maddow isn't the type of MSNBC host to suffer Q fools (that's for Chuck Todd or Andrea Mitchell) and she always does her homework, so she'd eviscerate Cawthorn on literally any topic from the Constitution to how to bait a fish hook. So what's this really about?
If Rachel Maddow's debated Madison Cawthorn, she would eat him alive and save the trees.

— Avenger Resister (@AvengerResister) January 11, 2022
DIVERSION, baby! All of the January 6th stuff is going sideways and downhill fast for the GQP, and now it's time for a scapegoat. Is there a liberal woman they can use, and can she also be a high-profile member of the media who also happens to be lesbian? Oh hai Rachel!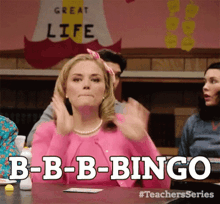 Literally no one thinks Rachel Maddow is afraid to "debate" Madison Cawthorn, not that it's her job to do that. More importantly, also not her job to be your whipping girl, Trump Nation. Be more transparent, can you? It's more like "We really hope he never calls us, that would be awkward."
#Maddow producer: "We don't want Nazis on the show, hopefully he'll never call us to beg us for an interview"

You: "THEY'RE SCARED OF ME"

Us: pic.twitter.com/owEmOgalY7

— Tara Dublin, Untapped Writing Goldmine #SignTara (@taradublinrocks) January 11, 2022
Twitter was more than happy to let Qawthorn know they're firmly on Team Maddow.
Rachel Maddow interviewing Cawthorn…

MC: "well, it's like this…"

RM: *reaches toward screen. "I got your nose…"

MC: *spellbound

— THEEBlueBobMulePants #BLM #MeToo (@BlueBobHMueller) January 11, 2022
Pretty sure Rachel Maddow would wipe her ass with Cawthorn. https://t.co/CpCpLAEGKO

— Wendy Ryan (@ColoradoWater1) January 11, 2022
Rachel Maddow would chew him up and spit him out and
Madison Cawthorn wouldn't even realize what happened.

— Cathy Wilson 🇺🇸✌🏻🦋 (@WildCathRN) January 11, 2022
Madison Cawthorn is so easily manipulated that he actually married a Russian SPY, for Christ sake.

Rachel Maddow could convince him to sell his farts in jars if she wanted to. (I mean if he's not doing that already.)

— Paul Lee Teeks (@PaulLeeTeeks) January 11, 2022
Fox News, thinks that Rachel Maddow, (Oxford, PhD in Political Science/Rhodes Scholar/Stanford Grad) is somehow quaking in her boots over facing a serial lying, tree punching moron like Madison Cawthorn?
😂😂😂😂😂😂😂😂😂😂😂 pic.twitter.com/UrWrLjvU8D

— Boulder_Tim (@Boulder_Tim) January 11, 2022