[COMMENTARY] IT'S OVER: Trump & Giuliani Call It Quits Over Legal Issues
The pandemic of 2020 continues to take its toll on everyone, even celebrities. So many power couples broke up last year: Jason Sudeikis and Olivia Wilde; Cardi B and Offset; and Kristin Cavallari and Jay Cutler. But the internet was buzzing with the latest major split, and this one is sending shockwaves from New York to DC to Florida: Rudy "Colludy" Giuliani and Donald "Donny Twice Impeached" Trump have gone their separate ways after four years, and let's just say things are going to get a little…awkward now, to say the least.
But let's first revisit the duo's Golden Years, when Rudy first joined Donald's legal team. Even though they had known each other casually on the New York social scene for decades, they only started getting close in 2016 when Donald managed to cheat his way into office. Sparks flew between them and just like that, Rudy was added to the legal team so Donald could keep him close by.
Like any new pair, they were seen EVERYWHERE together, even canoodling on Air Force One for cozy getaways to rallies all over the country. And when they couldn't be together, Rudy was always talking about his guy to anyone who would listen, gushing (literally) over his many accomplishments. And for his part, the usually aloof Donald was equally open about his affection for the former Mayor of NYC, calling him "My lawyer" and "Rudy".
Everything seemed just peachy between the two even as recently as last month, when both made (not exactly legal) phone calls to the same guy in Georgia to make sure they could stay in the house Donald was staying in with his always-absent trophy wife, Melania "Melanie" Trump. But the pressure of legitimately losing an election began to wear on both of them, with each displaying clear physical and mental declines.

Caught in a sensitive moment, Donald assures Rudy they'll be together for at least eight years.
Soon the demands of their roles began pulling them apart in both the literal and figurative sense. As Rudy was scheduling last-minute press conferences in parking lots, Donald was recovering from the coronavirus. They were barely communicating, according to a close aide who asked for anonymity. "They were on the phone all the time," the insider reveals. "For hours and hours, you could hear them laughing and conspiring. But now, it's like they're strangers. It's kind of sad, even if it's still really gross."
Once Donald recovered, Rudy himself fell ill, but not before spreading it to the rest of the legal team and others. Rudy became increasingly "unhinged" as their relationship became tenser, and was famously photographed mid-meltdown after a last-ditch effort to overturn the election failed yet again.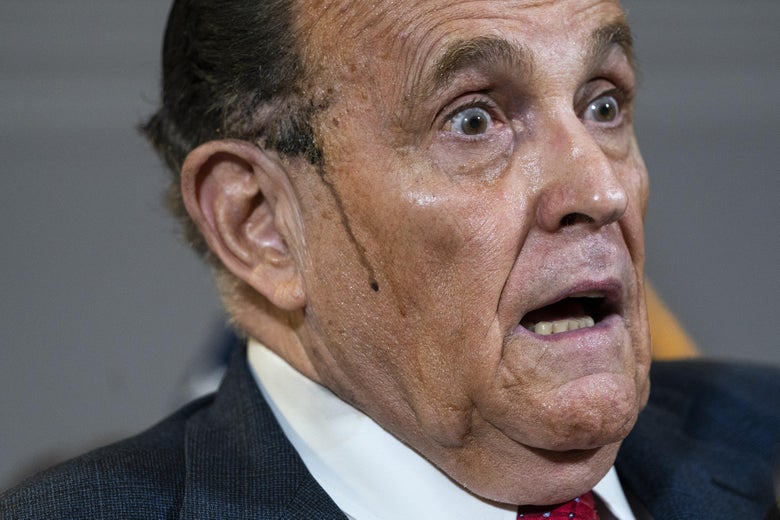 Their relationship took its truly hardest hit on January 6th, after both Rudy and Donny had talked up a big rally to incite a crowd to overthrow the government. When that didn't turn out as planned and Donald officially had to leave his house in DC to return to Florida later that month, it caused a rift neither could come back from. Buried in an article about the first civil lawsuit to stem from the insurrection was the very brief and emotion-free declaration that Rudy was no longer part of the team.
Donald Trump's long-time personal attorney Rudy Giuliani is no longer working for the former president, according to Jason Miller. In a statement Miller writes, "Mayor Giuliani is not currently representing President Trump in any legal matters." @Acosta reports

— Kara Scannell (@KaraScannell) February 16, 2021
Ouch! This is like when Matt Damon broke up with Minnie Driver on "Oprah" and Minnie had no idea, except with, like, actual repercussions.
Breaking News: The NAACP filed a lawsuit against Donald Trump and his personal lawyer Rudy Giuliani, claiming that they violated a 19th-century statute, the Ku Klux Klan Act, when they tried to prevent the certification of the election on Jan. 6. https://t.co/BSvpUNSa8L

— The New York Times (@nytimes) February 16, 2021
However, the two former lovebirds will be forced to face each other again sooner than either of them expected to, which could make things even more difficult for the former besties. Both Donald and Rudy have been named in several lawsuits in multiple cities, including them hanging out with the Proud Boys and Oath Keepers, and both will have to appear as private citizens to testify in those cases. Luckily for them, Donald's friend "Leningrad" Lindsey Graham will be joining them in Atlanta later this spring when Fani Willis prosecutes them all for tampering in the January 5th Georgia Senate runoff elections.
You just never know what might happen with this crazy couple of criminals! While neither was available for comment for this story, they both have requested privacy at this difficult time while they each try to put together separate defenses to present to a jury not comprised of their friends who live in their pockets despite the plot to have them murdered.
Republicans, they're just not like us!