[COMMENTARY] How Refreshing: No Nepotism in the Biden Administration
Karine Jean-Pierre made history when President Joe Biden named her as Jen Psaki's successor to the podium as White House Press Secretary. "Queen Karine" will be both the first Black woman as well as the first openly LGBTQIA+ person to take on the demanding and often thankless role.
Jean-Pierre has been in a long-term relationship with CNN correspondent Suzanne Malveaux, and the couple shares a daughter. Malveaux has covered the White House and politics for 20 years with the network, and to avoid criticisms or cries of nepotism or favoritism, CNN is now reassigning Malveaux to a beat where she can still cover national, international, and cultural news without covering Capitol Hill.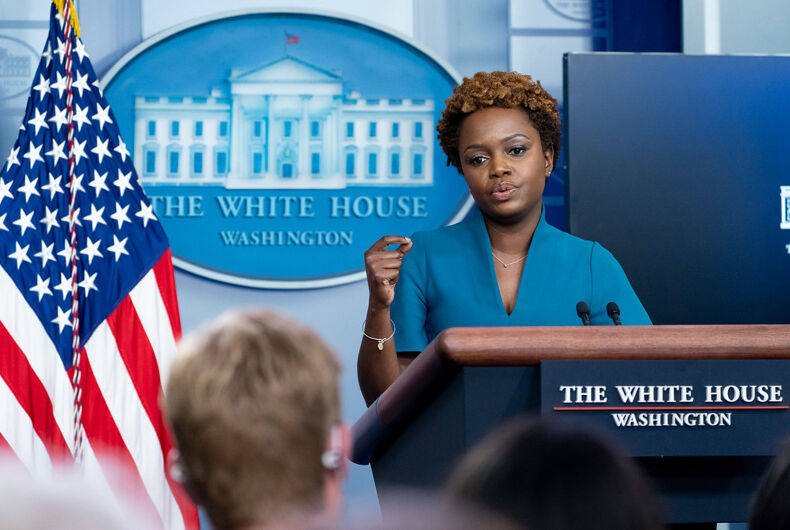 Now, if you're thinking BUT WHAT ABOUT ALL OF THE TRUMP KIDS IN THE WHITE HOUSE? you wouldn't be alone, because that was my first thought as well when the news about Malveaux broke. But it's just another example of the Biden administration doing the right thing, even if the new assignment for Malveaux came from her boss and not Jean-Pierre's.
GET ALL YOURS, QUEEN KARINE! @K_JeanPierre #BlackWomenLead pic.twitter.com/dnVE7mctKM

— Tara Dublin 🇺🇦🌻 (@taradublinrocks) May 5, 2022
The point is that the mainstream media basically shrugged when Ivanka Trump was made a senior adviser who sat in on meetings that changed the language of how the Coronavirus was presented to the American people. Ivanka's husband, Jared Kushner, was most definitely pulling a Dick Cheney by actually running things while Trump cluelessly tweeted and bloviated. And the MSM just normalized it.
An honor & joy: #MadeleineAlbright w/#ColinPowell @creighton said of her legacy"I hope they might say she worked very hard to defend America's national interests & made people proud of what America is about.I want my legacy to be I'm a grateful American & I tried to give back" pic.twitter.com/HRRrhCxZw3

— Suzanne Malveaux (@SuzanneMalveaux) March 24, 2022
Instead of the couple pushing back against CNN by insisting Malveaux keep her usual beat and have it normalized, there was only the announcement of Malveaux's reassignment, which will remain in effect as long as Jean-Pierre is the White House Press Secretary. It's perfectly rational and perfectly normal, which is why there's no huge blowup about it. The Biden administration understands it's not okay to feed information from the White House to the press, FOX NEWS.
President Joe Biden on Thursday named Karine Jean-Pierre to be the next White House press secretary, the first Black woman and openly LGBTQ person to serve in the role. Incumbent Jen Psaki is set to leave the post next week. pic.twitter.com/Nl5wqlHCZ9

— NPR (@NPR) May 6, 2022