[COMMENTARY] Dr. Oz and Herschel Walker Don't Understand the Hatch Act
When Dr. Mehmet "You Can Lose 70 Pounds In Three Seconds" Oz announced his candidacy for Senate in Pennsylvania (despite living in New Jersey) as a Republican, it was like someone added some rancid Mountain Dew to his morning kombucha and he became a really terrible MAGAt overnight. While some might blame Oprah Winfrey for unleashing "MEHmet" upon an unsuspecting public along with the dubious Dr. Phil, it's not her fault Dr. "Whatever the Opposite of a Wizard Is" Oz decided to become a hack shill for dangerous diet products.
At the same time, Herschel Walker, a former football player who peaked in college (and I know this because I went to the same school) and has residual brain damage from his time on the gridiron, was recruited into running for Senate in Georgia by his old friend Donald Trump, who loves to use famous people of color as political props. Walker, who has a record of abusing his wife, is challenging Rev. Raphael Warnock, who inherited the pulpit of Dr. Martin Luther King, Jr., so you can see how they're essentially the same person to someone who's super racist.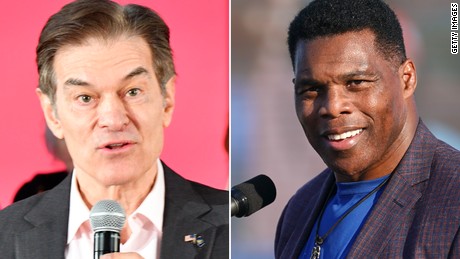 What do the Bad Doctor and the guy hanging on to his Heisman Trophy have in common? They had been appointed to the President's Council on Sports, Fitness, and Nutrition by the Former Guy, who doesn't know one thing about any of those three things, but wants everyone to think he does. But since both have declared their runs for office, they're now in violation of the Hatch Act, which gets tossed around a lot but is obviously never enforced. Still, they were both asked to step down, because President Joe Biden doesn't want any Hatch Act violators in his administration.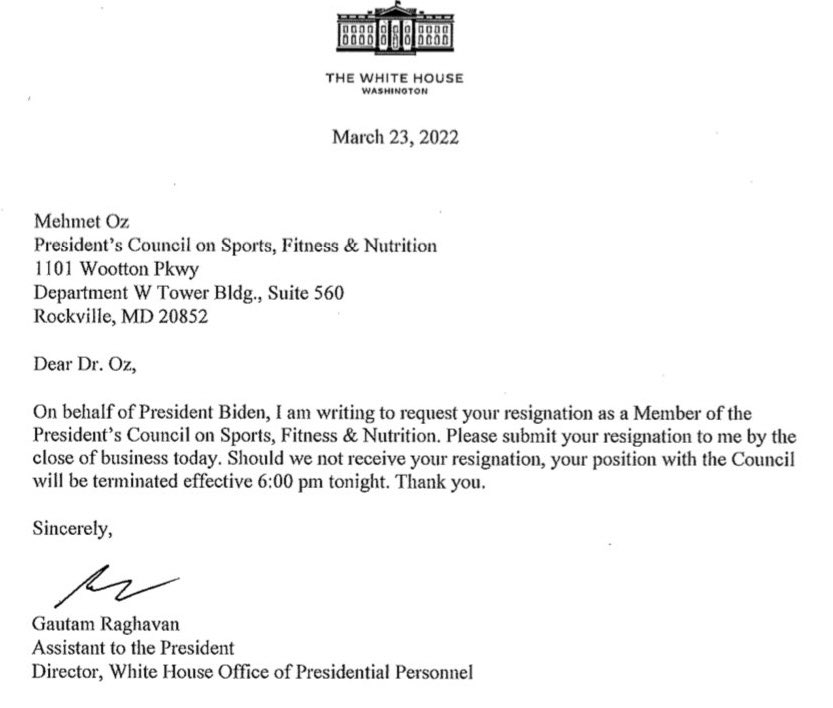 Like the typical MAGAts they are, Oz and Walker decided to spin it like Joe Biden is "afraid" of them beating their Democratic opponents. No really, they think this and said so publicly where other people could see it.
No it isn't, you traitorous hack quack shill. Herschel can at least blame it on brain damage from football, but what's your excuse for being the way that you are? #MEHmet pic.twitter.com/SRr1UQB9Ne

— Tara Dublin 🇺🇦🌻 (@taradublinrocks) March 24, 2022
Dr. Oz has really lowered himself. Look at him trying to bully a real doctor (Fauci) by acting like a MAGAt instead of someone who used to perform life-saving surgeries on other people. It's PATHETIC.
Fauci Thursday thoughts (probably) pic.twitter.com/KxwpRd3cAu

— Dr. Mehmet Oz (@DrOz) March 24, 2022
As for Herschel, there's only so much we can do when someone who's suffered brain damage is being taken advantage of by a grifter, so when he tweets word salads like this one, I try to keep my responses as simple as possible so they don't hurt too much to think about.
— Tara Dublin 🇺🇦🌻 (@taradublinrocks) March 24, 2022
Nobody expects either "Dr." Oz or the former sportsballer to get prosecuted for violating the Hatch Act, and we also don't expect them to become better people, neither. For now, they'll just always be ripe for Twitter fodder. Also, please support their Democratic opponents, John Fetterman and Raphael Warnock (we don't have to worry about the Hatch Act around here).
I ran for Lieutenant Governor to change things in PA.

They said I couldn't. But we won.

Now, we're taking on Washington.

Check out our latest TV ad, live *now* on screens across PA 👇 pic.twitter.com/41lgVdTD0K

— John Fetterman (@JohnFetterman) March 24, 2022
I'm back on the ballot again this year and once again need your help. Can you chip in what you can to my campaign? https://t.co/kuoAmsBx24

— Reverend Raphael Warnock (@ReverendWarnock) January 5, 2022