[COMMENTARY] Because Florida: Right-Wing Protesters Stage Disney World 'Blockade' to Support 'Don't Say Gay' Bill
Donald Trump's supporters may not be the smartest, but they certainly have plenty of stamina. Like an obedient hybrid of sheep and horse, they show up whenever they're summoned to gather in large numbers to help prevent any truth, joy, or actual freedom from existing in America. Their version of patriotism is basically, "Yeah! Whatever that guy just said!" Thinking for yourself is too hard, but camping out at Dealey Plaza for weeks on end is a cakewalk because someone said JFK Jr. was showing up.
It's this mentality that coats Florida with a transparent film that carries a slight hint of sunscreen and swamp water along with it. Because Florida, you can be a Congressman being investigated by the FBI for sex trafficking teenagers and not get so much as a slap on the wrist. Or you can be the Governor taking away access to abortion just because it looks like you enjoy making women miserable. But if you're a member of the LGBTQIA+ community and you want to live authentically in Florida, sorry, that's going to be a problem for a lot of people there. Because Florida.
Because Florida–really, because Florida Republicans–there are some incredibly terrible people ruining other peoples' dream vacations to Disney World now that they *checks notes really well* DO NOT support the "Don't Say Gay" bill that's causing a ton of controversy because the GOP just can't let other people live despite that being a thing in their Bible. So a bunch of repressed MAGA people decided the best way to make sure everyone knew they're bigoted jerks was to make sure no one could have fun at Disney World if Disney wasn't going to be as hateful as they are.
Imagine intentionally ruining the vacations (and possibly once-in-a-lifetime experience) for thousands of kids and not realizing you are absolutely the villain in this story. pic.twitter.com/HVX3psA0Mf

— Kendall Brown (@kendallybrown) April 16, 2022
Calling themselves the "Patriot Convoy," dozens of conservative protesters unsuccessfully attempted a car "blockade," that proved to be more of a minor inconvenience than the major headache organizers were surely hoping to cause. Such protests were outlawed by Florida Republicans in reaction to the anti-police brutality protests of 2020, although a federal judge has since ruled the ban unconstitutional. Also, I imagine there were a whole lot of pissed-off parents who'd been driving for three days in a minivan with screaming kids and they weren't going to let these doofuses kill their fun, even though that's what Trump's whole life is. The killer of joy has spread the love of killing joy everywhere he goes, isn't that great? Look at these mooks. Blurgh.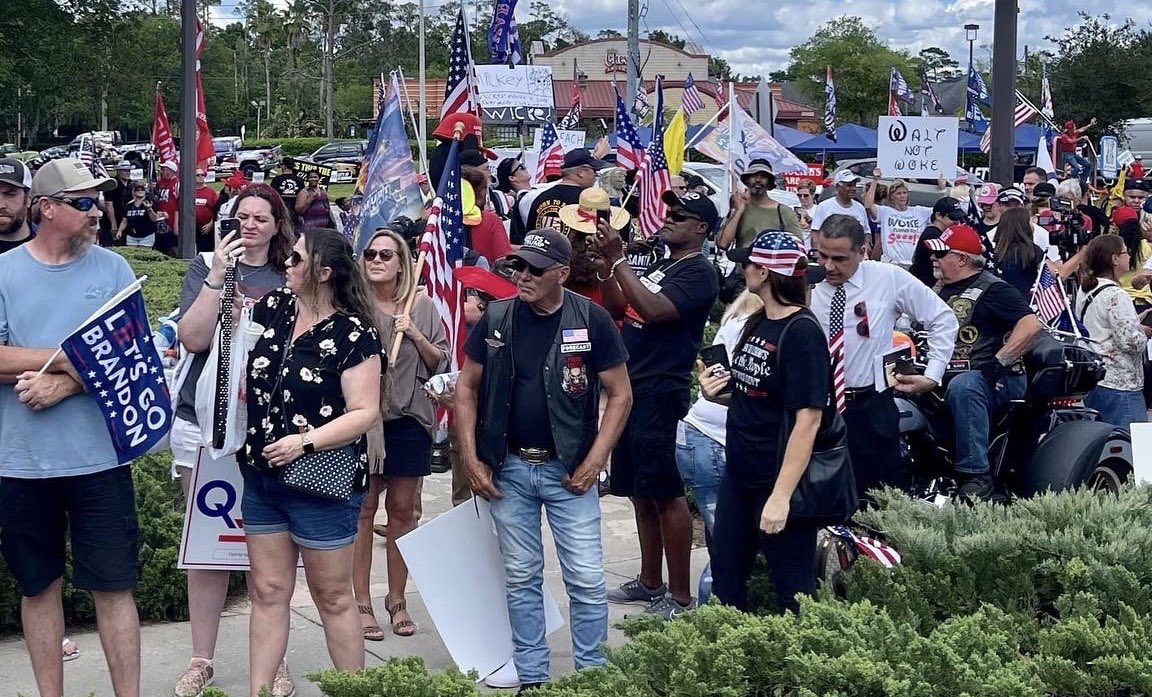 The problem is they were also bleating their usual QAnon crapola. During Saturday's protest, demonstrators called Disney employees "groomers," implying that the company's objection to the law is tantamount to "supporting pedophilia". OK QRAZIES, you can go Florida somewhere else now please.
Woman tears down "Pedo World" sign at Disney World put up by DeSantis and Trump QAnon goons.
They need to go protest in front of Catholic churches, Evangelical churches where this sort of stuff occurs. pic.twitter.com/fr7yG5qqTE

— Dallas (@59dallas) April 17, 2022