Canadian Police Clear Streets in Front of Parliament In Effort to End Ottawa Occupation
Hundreds of police in riot gear swept through the streets of Canada's besieged capital of Ottawa on Saturday, arresting or driving out protesters, towing away their trucks, and finally retaking control of the streets in front of the country's Parliament buildings. While some protesters vowed to stay on Ottawa's streets, one prominent organizer told reporters they had "decided to peacefully withdraw." By early Saturday afternoon, protesters were gone from the street in front of Parliament Hill, the collection of government offices that includes the Parliament buildings, which had the heart of the protests. It had been occupied by protesters and their trucks since late last month, turning into a carnival on weekends.
With protesters in clear retreat in the largest police operation in the country's history, the end of the three-week protest against the country's COVID-19 restrictions and the government of Prime Minister Justin Trudeau appeared to be in sight. Interim Police Chief Steve Bell said that while some smaller protests continued "this unlawful occupation is over. We will continue with our mission until it is complete."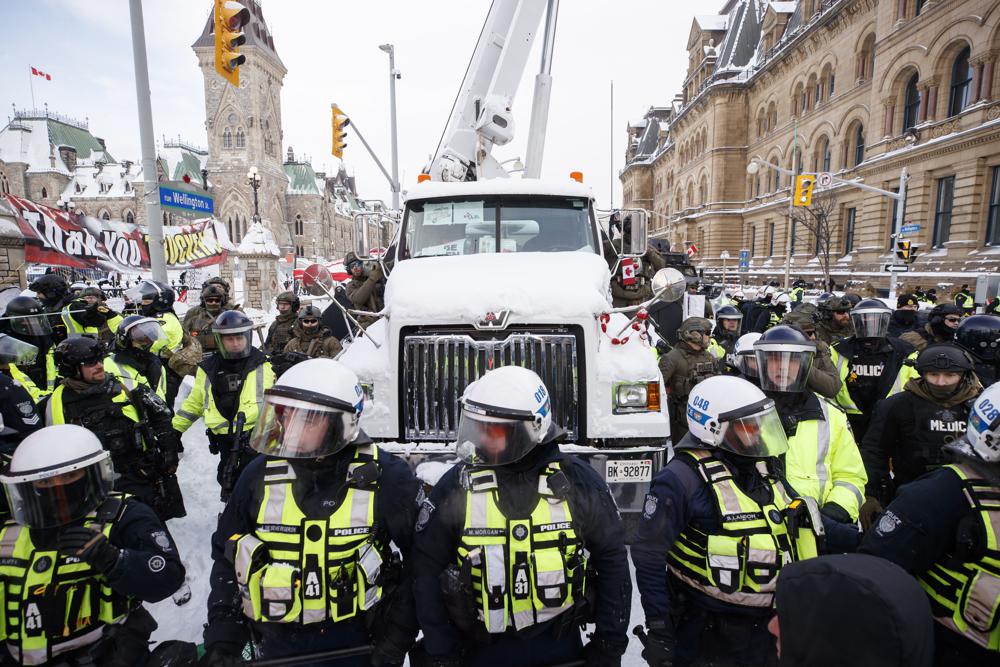 The Freedom Convoy demonstrations initially focused on Canada's vaccine requirement for truckers entering the country but soon morphed into a broad attack on COVID-19 precautions and Trudeau's government. Ottawa residents complained of being harassed and intimidated by the truckers and obtained a court injunction to stop their incessant honking.
White Nationalist Pat King has been arrested. #ottawaoccupiers #OttawaStrong pic.twitter.com/p9wYferqjI

— Rob Gill (@vote4robgill) February 18, 2022
Police had been brought in from across the country to help in the clearance operation, Bell said, adding that 170 people were arrested Friday and Saturday and multiple investigations had been launched because of weapons seizures.
Canadian police used pepper spray and stun grenades in a final push to clear the capital of trucks and demonstrators who have occupied the downtown core of Ottawa for more than three weeks to protest against pandemic restrictions https://t.co/nQKv7FFKZY pic.twitter.com/Bwd3t9NhLC

— Reuters (@Reuters) February 19, 2022
But even as things were growing calmer in Ottawa, the Canadian border agency warned that operations at a key truck crossing from western Canada into the United States had been slowed by protesters, advising travelers to find a different route. The crossing near the town of Surrey remained open, officials said, but further details were not available.
Trump's latest email is, on the surface, a fundraising mechanism for the truckers in Ottawa (with Sean Hannity roped in). But you click on the link and you're directed to a donor page for Trump pic.twitter.com/G7M8p3FWzn

— Sam Stein (@samstein) February 19, 2022
Police said protesters remained "aggressive and assaultive" and that pepper spray had been used to protect officers. Authorities also said children had been brought right to the police lines, saying it was "putting the children at risk." Canadian authorities also announced they had used emergency powers to seize 76 bank accounts connected to protesters, totaling roughly $3.2 million ($2.5 million U.S.).
Using kids as human shields is deplorable. So of course they would.

— Tim Bailey (@TimmyBaileyUSA) February 18, 2022
On Saturday, they also closed a bridge into the nation's capital from Quebec to prevent a renewed influx of protesters.
Protesters continue to be aggressive and assaultive on officers. They are refusing to comply with the orders to move. You will have seen officers use a chemical irritant in an effort to stop the assaultive behavior and for officer safety.

— Ottawa Police (@OttawaPolice) February 19, 2022
The biggest border blockade, at the Ambassador Bridge between Windsor, Ontario, and Detroit, disrupted the flow of auto parts between the two countries and forced the industry to curtail production. Authorities lifted the siege last weekend after arresting dozens of protesters. The final border blockade, in Manitoba, across from North Dakota, ended peacefully on Wednesday.