Buffalo Police Say White Supremacist Killer Would Have Kept Killing If He Hadn't Been Caught
The white supremacist gunman accused of slaughtering 10 Black people in a racist rampage at a Buffalo supermarket planned to keep on killing if he had escaped the scene, the city's police commissioner said Monday.
The possibility of federal hate crime or domestic terror charges were being discussed for the racist who had crossed the state to specifically target Black people and other people of color at the Tops Friendly Market. Buffalo Police Commissioner Joseph Gramaglia told CNN the 18-year-old who wrote racist slurs and phrases such as "Here's your reparations" on his AR-15 "was going to get in his car and continue to drive down Jefferson Avenue and continue doing the same thing," the commissioner said.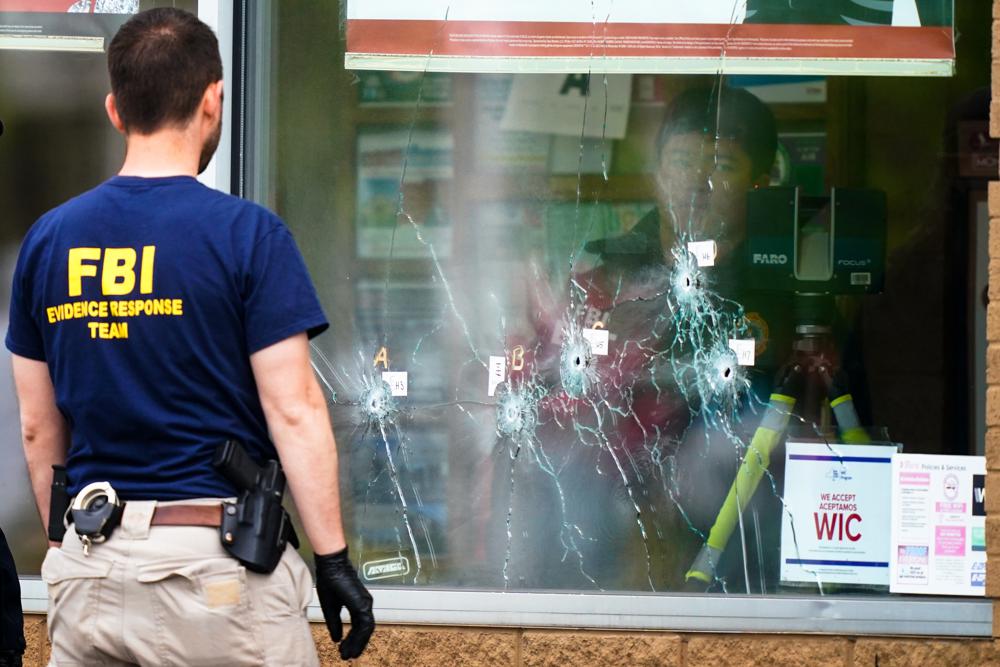 Payton Gendron traveled about 200 miles from his home in Conklin, New York, to commit the attack, police said. Authorities said he wielded an AR-15-style rifle, wore body armor, and used a helmet camera to Livestream the bloodbath on the internet. Gendron was taken into custody without incident as most white gunmen are, and was arraigned on a murder charge over the weekend. Despite broadcasting the massacre live and leaving behind a "manifesto," Gendron pleaded not guilty.
This is the assault rifle used by white supremacist, Payton Gendron. Gendron was a known Accelerationist, frequenting the vetbro channels. His weapon inscribed with the names of other white supremacist shooters and the ominous note, "Here's your reparations" pic.twitter.com/hfZaogYezS

— Tara Lemieux, Writer (@Tara_Writer) May 15, 2022
The commissioner's account was similar to portions of the racist 180-page document written by Gendron that said the assault was intended to "terrorize all non-white, non-Christian people and get them to leave the country." Federal authorities were working to confirm the document's authenticity.
Tamir Rice, a Black child, was shot on sight for doing nothing. Payton Gendron, a young white man who just murdered 10 people is peacefully arrested. The system is working as designed.

— Reparations Daily (ish) (@ReparationsIsh) May 16, 2022
Former Buffalo Fire Commissioner Garnell Whitfield Jr., lost his 86-year-old mother, Ruth Whitfield, in the shooting when she stopped by the Tops Friendly Market after making her daily visit to her husband in a nursing home. The former commissioner rhetorically asked how the country could allow its history of racist killings to repeat itself.
Noting that in AP copy, 18-yeear-old Michael Brown was an "18-year old Black man," while 18-year-old Payton Gendron is a "white teenager." pic.twitter.com/53Jt1vWuqf

— Dr. Thrasher (@thrasherxy) May 15, 2022
"We're not just hurting. We're angry. We're mad. This shouldn't have happened. We do our best to be good citizens, to be good people…We treat people with decency, and we love even our enemies," Whitfield said at a news conference with civil rights attorney Ben Crump and others.  "And you expect us to keep doing this over and over and over again — over again, forgive and forget," he continued. "While people we elect and trust in offices around this country do their best not to protect us, not to consider us equal."
The mass murder of black Buffalo residents by white supremacist Payton Gendron was totally preventable just like Dylann Roof and Rittenhouse's mass shootings were.
Dems and GOP are trying to sneak away now because they both refuse to fight white supremacy.https://t.co/Lz1BRJr6ub

— ProfessorBlackTruth (@ProfBlacktruth) May 16, 2022
Federal prosecutors said they are contemplating hate crime charges for Gendron.