[BREAKING] White House Will Withdraw Tanden OMB Nomination
The White House plans to withdraw Center for American Progress head Neera Tanden as the nominee for director of the Office of Management and Budget (OMB), at her request, as of Tuesday evening. Tanden's nomination had been in a precarious position ever since West Virginia Senator Joe Manchin, a Democrat, announced he wouldn't support Tanden's nomination. It has been reported that Manchin, who voted to confirm Brett Kavanaugh among other troublesome Trump nominees, withheld his support for Tanden after she had criticized his daughter in a tweet from 2016.
Press Secretary Jen Psaki had maintained until very recently that President Biden was completely confident in Tanden's abilities and would stick with her as the nominee. White House Chief of Staff Ron Klain has previously said that the administration would put Tanden in another position that does not require Senate confirmation, although it is not clear what that position will be.
President Joe Biden has not yet announced whom he'll nominate next for budget director in place of Tanden, although the Congressional Black Caucus has urged him to pick Shalanda Young, a House staffer currently nominated to serve as the deputy director of the office.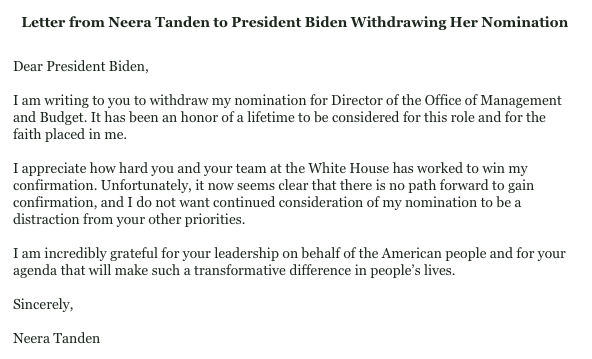 Pres. Biden: "I have accepted Neera Tanden's request to withdraw her name … I have the utmost respect for her record of accomplishment, her experience and her counsel, and I look forward to having her serve in a role in my Administration. She will bring valuable perspective."

— Kyle Griffin (@kylegriffin1) March 2, 2021
[This is a developing story, please check back for updates]