[BREAKING] Texts Reveal Cruz Planned Trip to Cancun
Ted Cruz's trip to Cancun might have been brief, but the impact is going to haunt him much longer than someone's usual embarrassing vacation photos. Images of Cruz and his family traveling to escape the frigid Texas winter storm while others suffer through unbearable circumstances went instantly viral Wednesday night, and now it's been learned Cruz originally planned to return on Saturday morning. To add more outrage to this possibly career-ending scandal, the New York Times has now also revealed that the Cruz family jaunt south of the border wasn't exactly a last-minute trip after a plea from his daughters, which is what Cruz told reporters who greeted him upon his return to Houston.
Texts obtained by the Times that have been confirmed by at least two sources show that Cruz's wife, Heidi, invited neighbors to join them at the Ritz Carlton Resort, as the hotel was offering a reduced nightly "getaway" rate.
Text messages sent from Heidi Cruz to friends and Houston neighbors on Wednesday revealed a hastily planned trip. Their house was "FREEZING," according to Mrs. Cruz, so she suggested a getaway until Sunday. Ms. Cruz invited others to join them at the Ritz-Carlton in Cancún, where they had stayed "many times," noting the room price this week ($309 per night) and its good security. The text messages were provided to The New York Times and confirmed by a second person on the thread, who declined to be identified because of the private nature of the texts.
Oh my. @American_Bridge has texts from Heidi Cruz planning the Cancun trip.

The group chats are not safe, Lovelies! pic.twitter.com/IqLYU2np0c

— Tim Hogan (@timjhogan) February 18, 2021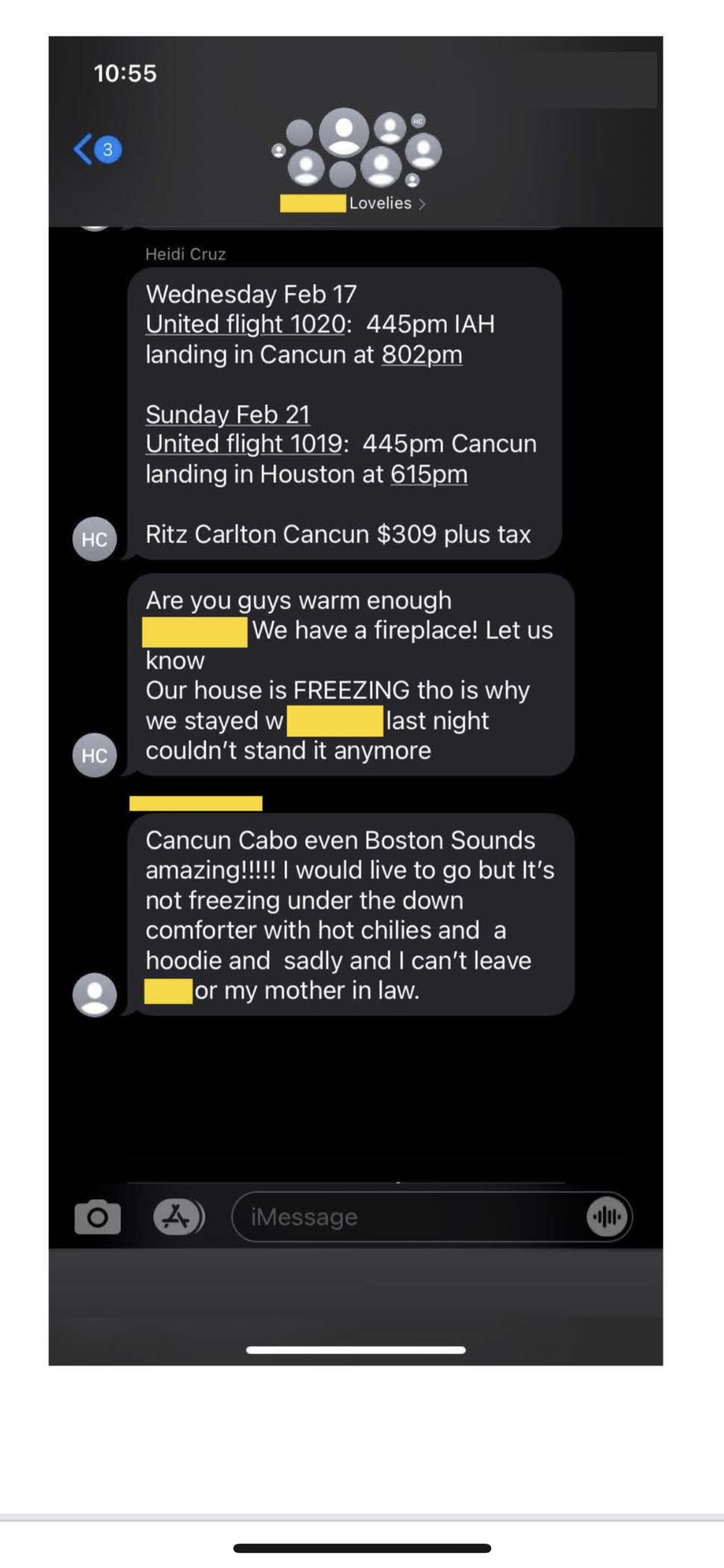 "Anyone can or want to leave for the week?" she wrote. "We may go to Cancún." She teased a "direct flight" and "hotels w capacity. Seriously." Ms. Cruz promptly shared details for a Wednesday afternoon departure, a Sunday return trip and a luxurious stay at the oceanfront Ritz-Carlton in the meantime. No one appeared to bite, but Ms. Cruz did extend a more practical offer. "We have gas stove so at least we can heat water little that there is happy to help anyone we can too," she wrote.
Twitter has been dragging Ted Cruz since the moment the story broke Wednesday night, with plenty of new hashtags attributed to him, including "#CanCruz" #"FlyinTed" and "#FledCruz".
📺 NEW VIDEO

Is your water off? Power out? Act now. Our lines are open and paradise awaits you. #CanCruz pic.twitter.com/4tzyrVcejI

— MeidasTouch.com (@MeidasTouch) February 18, 2021
Ted Cruz: No one will recognize me ditching the dead frozen people in Texas to go to Cancun with my family because muh mask #TurdCruz pic.twitter.com/RwAjAzbu1P

— Give Tara Dublin Josh Hawley's Book Deal (@taradublinrocks) February 18, 2021
Ted Cruz has not tweeted from either of his accounts since Wednesday afternoon.
[This is a continuing and developing story. Please check back for updates]