[BREAKING] Putin Orders Troops Into Newly Recognized Separatist-Controlled Territories in Ukraine
Russia's Vladimir Putin has ordered troops into separatist-held parts of eastern Ukraine in what the Kremlin called a "peacekeeping" mission, just hours after he signed decrees recognizing the independence of the Kremlin-backed regions. Ukrainian officials say Russian troops may have already entered separatist territory this evening as part of what Putin claims is a "peace-keeping mission" to the Luhansk and Donetsk people's republics.
In a fiery speech on Monday night, Putin blasted Kyiv's growing security ties with the West, and in lengthy remarks about the history of the USSR and the formation of the Ukrainian Socialist Soviet Republic, appeared to cast doubt on Ukraine's right to self-determination.
"Ukraine has never had traditions of its own statehood," he said, calling the eastern part of the country "ancient Russian lands."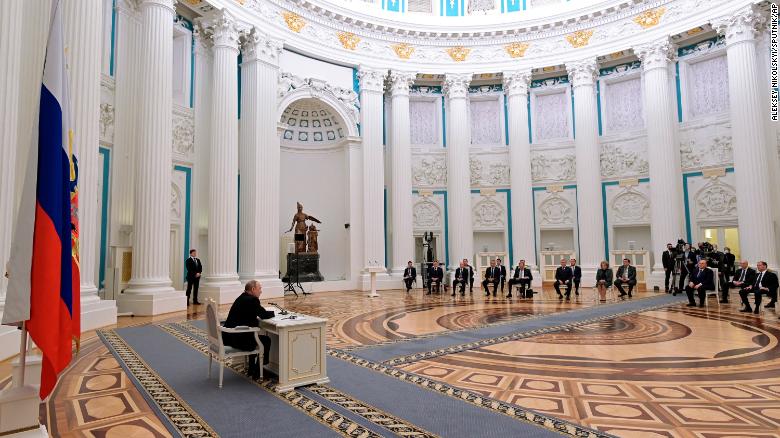 Video released by Ukraine tonight appears to show a column of military vehicles with their headlights on moving in convoy along a road. The officials said it was not possible to tell if the troops belonged to the regular Russian army, or were from Russian-controlled separatist units.
Putin has tasked the armed forces of the Russian Federation with the implementation of what's being called "peacekeeping" functions on the territory of self-declared Donetsk People's Republic and the Luhansk People's Republic. (In other words… Putin is invading Ukraine)

— Jim Acosta (@Acosta) February 21, 2022
Prior to Putin's remarks, US Secretary of State Antony Blinken had promised "a swift and firm response" from the US and its allies if Russia moves to recognize Ukraine's breakaway regions as part of Russian territory, calling such a move a "gross violation of international law."
Kremlin recognition of the so-called "Donetsk and Luhansk People's Republics" as "independent" requires a swift and firm response, and we will take appropriate steps in coordination with partners.

— Secretary Antony Blinken (@SecBlinken) February 21, 2022
Defense minister Oleksii Reznikov said Monday that Ukraine was not seeing any withdrawal of Russian forces from positions close to the border. And in a further escalation, Belarusian officials announced Sunday that joint Russian military exercises in Belarus that were slated to end over the weekend would continue, implying that Russian forces may extend their stay.
President Biden spoke today with President Volodymyr Zelenskyy of Ukraine to reaffirm the commitment of the United States to Ukraine's sovereignty and territorial integrity.
https://t.co/LMIsGqePAA

— The White House (@WhiteHouse) February 21, 2022
Emmanuel Macron released a statement condemning Russia's recognition of two territories in eastern Ukraine as independent. "By recognizing the separatist regions of eastern Ukraine, Russia is violating its commitments and undermining Ukraine's sovereignty," Macron said. "I condemn this decision. I called for an emergency meeting of the UN Security Council and European sanction."
Putin's actions put the crisis past the point of a diplomatic resolution. Putin has eliminated the last realistic off-ramp for the crisis. He signed away the possibility of achieving his political aim, a veto over Ukraine's geopolitical orientation, w/o a military offensive.

— Alexander S. Vindman (@AVindman) February 21, 2022
NATO Secretary General Jens Stoltenberg was one of many who also condemned Putin on Twitter for escalating the situation.
I condemn #Russia recognition of Donetsk/Luhansk in #Ukraine. It erodes efforts to resolve the conflict & violates Minsk agreements. #NATO supports Ukraine sovereignty & territorial integrity. We urge Moscow to stop fuelling conflict & choose diplomacy. https://t.co/H4yczPG8XM

— Jens Stoltenberg (@jensstoltenberg) February 21, 2022
If Russia further invades Ukraine, the U.S. should immediately move to CONFISCATE the assets of every Russian oligarch who is allied with Putin — their bank accounts, their mansions, their yachts. Hit them where it hurts.

— Jon Cooper (@joncoopertweets) February 21, 2022
Any diplomatic effort is worthwhile if it can prevent war.

A war in Ukraine would be a humanitarian disaster.

I applaud President Biden for all his efforts to achieve peace.

Standing strong means never closing the door to diplomacy. pic.twitter.com/WhgaBswdQ3

— Adam Schiff (@RepAdamSchiff) February 21, 2022
[This is a breaking and developing story, please check back for updates]