[BREAKING] Jury Reaches Guilty Verdict For 3 Officers Charged With Depriving George Floyd of His Civil Rights
https://twitter.com/BNCNews/status/1496320455300763648
Three former Minneapolis police officers have been found guilty of violating the civil rights of George Floyd, the Black man whose death at the hands of police in 2020 spurred protests against systemic racism around the world.
The former officers, J. Alexander Kueng, Thomas Lane, and Tou Thao, are charged with depriving Floyd of his civil rights while acting under government authority. Kueng and Thao face an additional charge of not intervening to stop their fellow officer, Derek Chauvin, from using excessive force. Last year, a jury convicted Chauvin on state murder and manslaughter charges. In December, he pleaded guilty to violating Floyd's civil rights and is awaiting sentencing in the federal case against him. He remains in prison on a 22 ½-year sentence for the state case, one of the longest imposed on a police officer for a killing in the line of duty.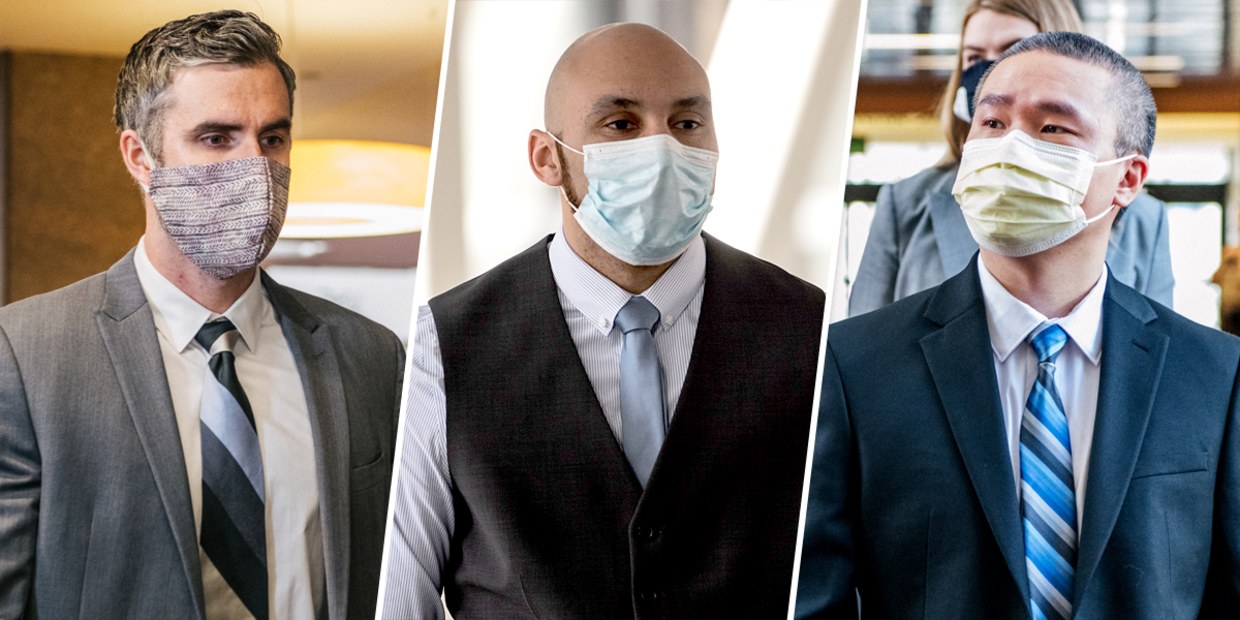 The three defendants all pleaded Not Guilty.
WARNING: GRAPHIC CONTENT – A jury begins weighing if Minneapolis police violated George Floyd's constitutional rights https://t.co/SyufH6iUsV pic.twitter.com/ZWjRNOIDOC

— Reuters (@Reuters) February 23, 2022
Defense attorneys have said the men did not receive adequate training and relied on Chauvin as the most experienced officer on the scene. All three officers testified during the trial, the first time they had made public comments about the case since Floyd was killed on May 25, 2020. Prosecutors framed their testimony, where Kueng testified that he did not realize Floyd had a "serious medical need" and Thao testified that he had "relied on his fellow officers to tend to Floyd's medical needs" while he "dealt with onlookers at the scene."
In closing arguments, prosecutors said the defendants had "front-row seats" to Floyd's murder and "chose to do nothing" to help him while Chauvin knelt on Floyd's neck for 9 ½ minutes. "They chose not to aid George Floyd, as the window into which Mr. Floyd's life could have been saved slammed shut," prosecutor Manda Sertich said Tuesday.
Jury deliberations are set to begin in the federal trial of 3 former officers involved in George Floyd's death — here's the latest pic.twitter.com/vWRCECTn3y

— NowThis (@nowthisnews) February 23, 2022
Thao, Kueng, and Lane could each face up to life in prison, though such a severe punishment is unlikely. A state trial is scheduled for June against the men on charges of aiding and abetting murder and manslaughter.
All three cops are found guilty on federal charges for violating George Floyd's civil rights pic.twitter.com/xr1asxik2K

— Georgia Fort (@ByGeorgiaFort) February 24, 2022