[BREAKING] House Ethics Committee Opens Investigations Against Gaetz and Reed
The House Ethics Committee announced Friday it was opening separate investigations into allegations of sexual misconduct against Republican Reps. Matt Gaetz and Tom Reed. The announcement comes amid a Department of Justice investigation into Gaetz's travel to the Bahamas with women, and specifically whether those women were paid to travel for sex, which could violate federal law.
Federal investigators are also looking into whether Gaetz and one of his associates used the internet to search for women they could pay for sex.
Tom Reed, a Republican from western New York, was accused last month of rubbing a female lobbyist's back and unhooking her bra without her consent in 2017. He later apologized to the woman and announced that he will not run for re-election next year.
The House Ethics Committee's statement acknowledges the accusations against Gaetz but stresses the investigation is not an acknowledgment of any guilt. Among the accusations listed are sexual misconduct, illicit drug use, sharing nude images on the House floor, misusing identification records, campaign funds for personal use, and accepting bribes, improper gratuitites, and gifts.
NEW: The House Ethics Committee has announced it will launch an investigation into Matt Gaetz's conduct.
FULL STATEMENT: pic.twitter.com/SWB5GaTjhX

— Ryan Nobles (@ryanobles) April 9, 2021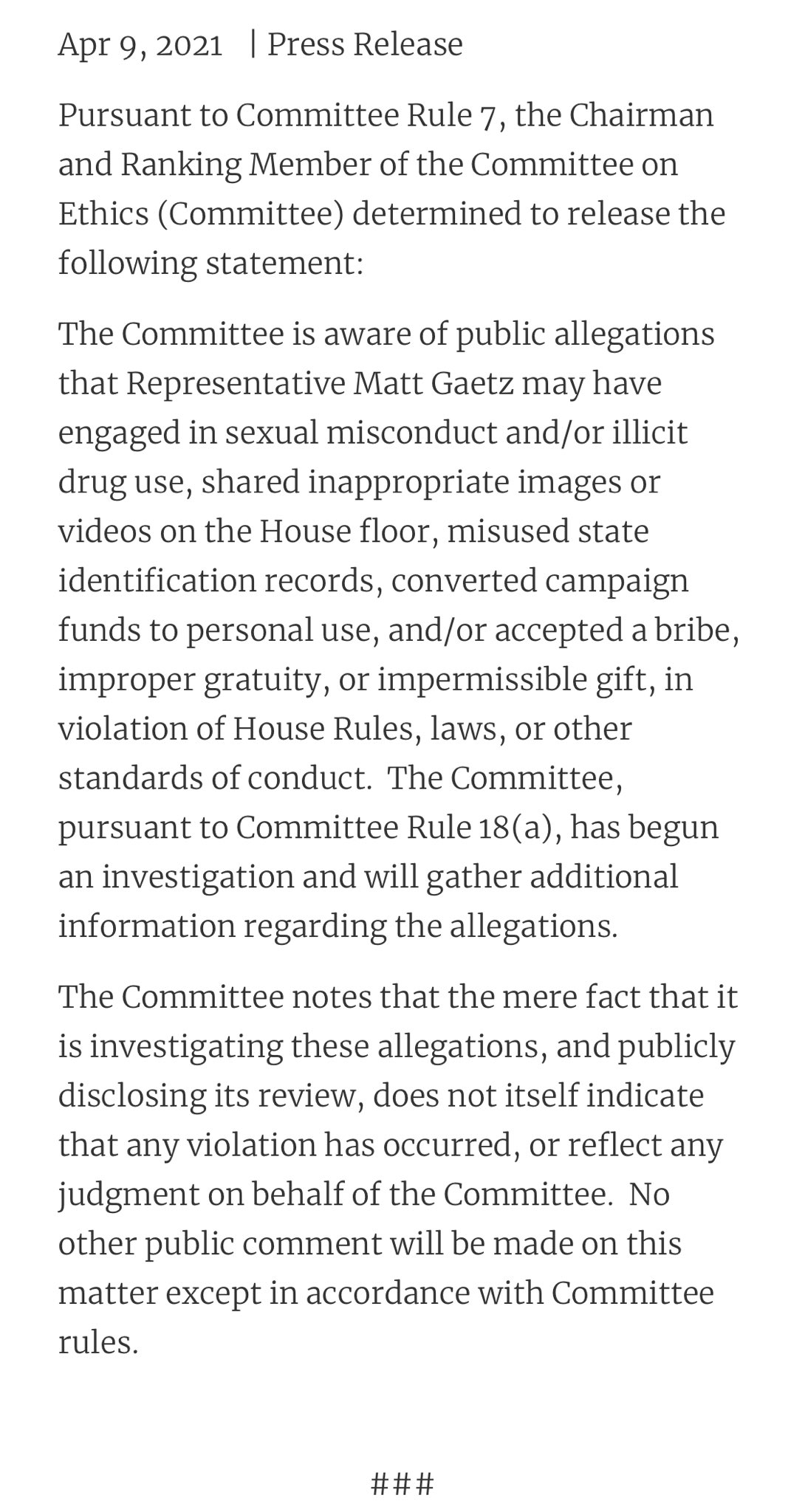 Twitter was thrilled with the latest development in what's been dubbed "GaetzGate".
GREAT NEWS: We love to see @GOP corruption and perversion being investigated.

Let's hold these sleaze bags accountable!#GaetzGatehttps://t.co/IBrTbgTalH

— Democratic Coalition (@TheDemCoalition) April 9, 2021
Took a while, but I'm glad to see that the Ethics Committee finally opened an investigation here.

I sure hope they figure out which other members were gawking at those photos but didn't say anything for so long. https://t.co/an8N3SgkC3

— Katie Hill (@KatieHill4CA) April 9, 2021
Gaetz was still scheduled to speak Friday evening at the "Insurrection Reunion" at the Trump Doral at press time.
[This is a developing story, please check back for updates]