Biden Boom: U.S. Economy Grew at the Fastest Rate Since 1984 Last Year
The U.S. economy grew last year at the fastest pace since Ronald Reagan's presidency, bouncing back with resilience from 2020′s brief but devastating coronavirus recession.
For the year, economic growth accelerated at a rate of 5.7%—the highest showing since 1984 after a 3.4% decline in 2020. Real gross domestic product (GDP) beat expectations averaging 5.5% due primarily to increases in exports, personal consumption, and nonresidential investments, according to an estimate by the Bureau of Economic Analysis (BEA) on Thursday.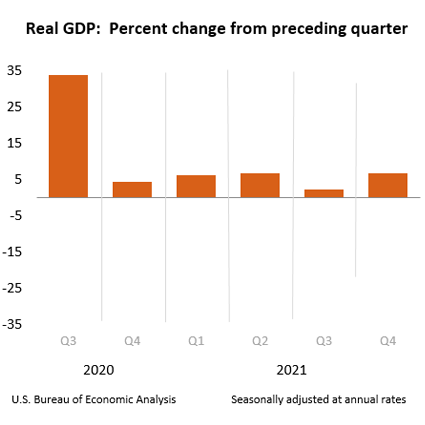 Despite the economy's better-than-expected performance last year, the International Monetary Fund cautioned on Tuesday that the economy would grow more slowly in 2022 due to lingering supply chain constraints, the Federal Reserve's removal of the pandemic-era stimulus, and the increasingly diminished likelihood that President Joe Biden will pass his $1.2 trillion social spending package, Build Back Better.
In 2021, the US economy grew at the fastest rate since 1984. We should all be tweeting this over and over. #BidenBoom

— MeidasTouch.com (@MeidasTouch) January 27, 2022
Many U.S. businesses, especially restaurants, bars, hotels, and entertainment venues, remain under pressure from the Omicron variant, which has kept millions of people hunkered down at home to avoid crowds. Consumer spending, the primary driver of the economy, may be further held back this year by the loss of government aid to households, which nurtured activity in 2020 and 2021 but has mainly expired.
Trump boasted we'd see "5% or even 6% growth." He never came close. Then he boasted about just one quarter of 3% GDP growth: "Nobody thought" it could happen.

The economy under @JoeBiden grew at 6.9% last quarter! 5.7% in 2021 – highest since 1984!#BidenBoom #DemocratsDeliver pic.twitter.com/g66whOPOrF

— Bryan Dawson (@BryanDawsonUSA) January 27, 2022
Super-low interest rates, huge infusions of government aid — including $1,400 checks to most households — and, eventually, the widespread rollout of vaccines revived the economy. Many consumers regained the confidence and financial wherewithal to go out and spend again.
New: US economy in 2021 grew at the fastest rate since the Reagan administration – at an annualized rate of 6.9% in the final quarter, a substantial uptick from the Delta-ridden third quarter. For 2021 as a whole, the economy expanded 5.7%, the fastest since 1984.

— Jim Sciutto (@jimsciutto) January 27, 2022
For the final three months of 2021, consumer spending rose at a more muted 3.3% annual pace. But private investment rocketed 32% higher, boosted by a surge in business inventories as companies stocked up to meet higher customer demand. Rising inventories, in fact, accounted for 71% of the fourth-quarter growth.
This afternoon, I brought together CEOs in support of my Build Back Better Agenda. The plan will get people working and ensure we remain the most dynamic and productive economy in the world.

It's good for families. It's good for the economy. And it's good for the country. pic.twitter.com/9g7DLlP8FQ

— President Biden (@POTUS) January 26, 2022
President Joe Biden said, "We are finally building an American economy for the 21st century, with the fastest economic growth in nearly four decades, along with the greatest year of job growth in American history."