Bad Actor Quits SAG-AFTRA to Avoid Disciplinary Hearing
In a special session on January 19th, the National Board of SAG-AFTRA, the American labor union representing approximately 160,000 film and television actors, journalists, radio personalities, recording artists, singers, voice actors, internet influencers, fashion models, and other media professionals worldwide, voted overwhelmingly to find probable cause of a violation of SAG-AFTRA's Constitution by member Donald J. Trump and ordered the matter to be heard by SAG-AFTRA's Disciplinary Committee as required by the SAG-AFTRA Constitution. The board acted on charges initiated by National Executive Director David White at the request of President Gabrielle Carteris. The charges specifically cite Trump's role in inciting the attack on the U.S. Capitol on January 6, and in sustaining a reckless campaign of misinformation aimed at discrediting and ultimately threatening the safety of journalists, many of whom are SAG-AFTRA members. The charges request the imposition of the most severe penalty available to SAG-AFTRA: expulsion from membership.
"Donald Trump attacked the values that this union holds most sacred – democracy, truth, respect for our fellow Americans of all races and faiths, and the sanctity of the free press," said Carteris. "There's a straight line from his wanton disregard for the truth to the attacks on journalists perpetrated by his followers."
According to his IMDB.com actor profile, Trump's last acting role was in a short film called "Emin: In Another Life" in 2013, where he billed himself as "Donald J. Trump". Rather than face the board's charges, Trump decided to resign from the union instead. Submitting his resignation in writing, Trump blasted the union for not doing anything for him, even though it's not the role of the union to provide work for its members.
Trump's letter of resignation to SAG-AFTRA, dated February 4, 2021, states, "I write to you today regarding the so-called Disciplinary Committee hearing aimed at revoking my union membership. Who cares!"
Trump sent this letter to SAG-AFTRA to submit his resignation from the union representing Radio, TV and movie personalities. He mentions his film work in such movies as Home Alone 2 and Zoolander. pic.twitter.com/EdxaZipxqg

— Jim Acosta (@Acosta) February 4, 2021
Like most actors, it seems Trump cares quite a bit about his resume, as the letter continues to list his many roles. "I'm very proud of my work on movies such as Home Alone 2, Zoolander and Wall Street: Money Never Sleeps; and television shows including The Fresh Prince of Bel-Air, Saturday Night Lives, and of course, one of the most successful shows in television history, The Apprentice — to name just a few!"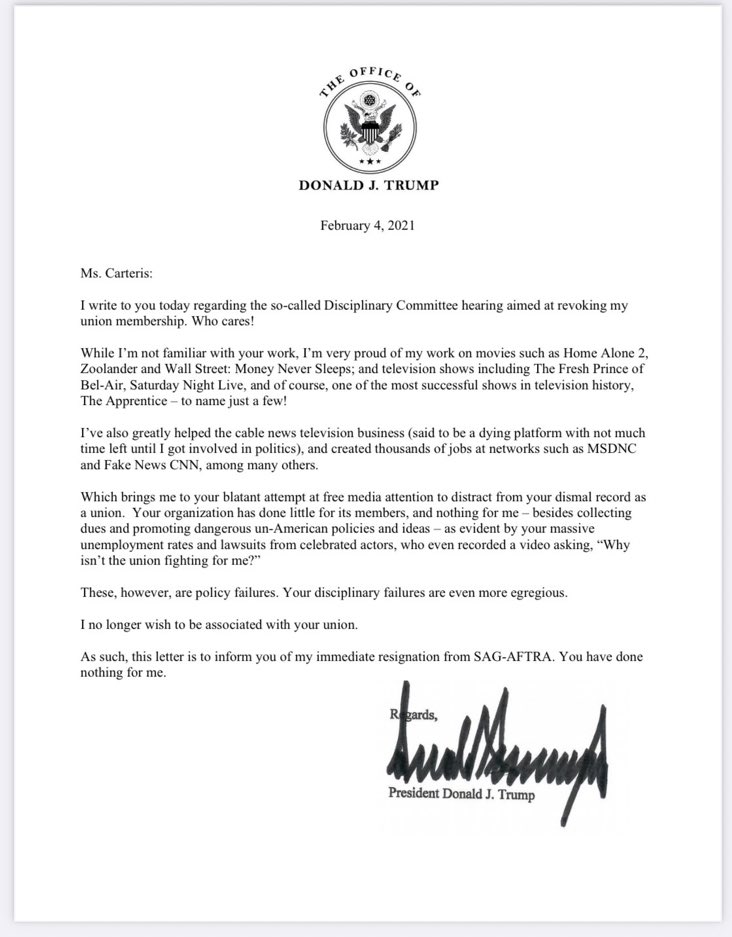 SAG-AFTRA responded to Trump's resignation with a simple, "Thank you", bringing their association to a close. SAG-AFTRA is now focusing on the upcoming SAG Awards, having announced their full list of nominees Thursday morning.
The @SAGawards nominations are in! Check out the full list of nominees and begin making your predictions! Congratulations to all of our nominated #sagaftramembers 🎉 https://t.co/sWjwKiUZWO

— SAG-AFTRA (@sagaftra) February 4, 2021