Atheist Activist Challenges Florida Book Bans By Demanding 'Too Woke' Bible Be Removed As Well
After Florida's Republican Governor Ron DeSantis and GOP state legislators passed the "Stop WOKE Act" meant to keep "prohibited topics" like racism and LGBTQ issues out of the classroom, a local activist has filed a complaint with eight school districts in Florida challenging the Bible's place in schools.
The Florida State Board of Education announced last week that it will reject 71% of elementary school math textbooks and 41% of textbooks for all grades. Officials say the curriculum contained "prohibited content" about "critical race theory." DeSantis insisted the textbooks contained "prohibited content" that was meant to "indoctrinate" children.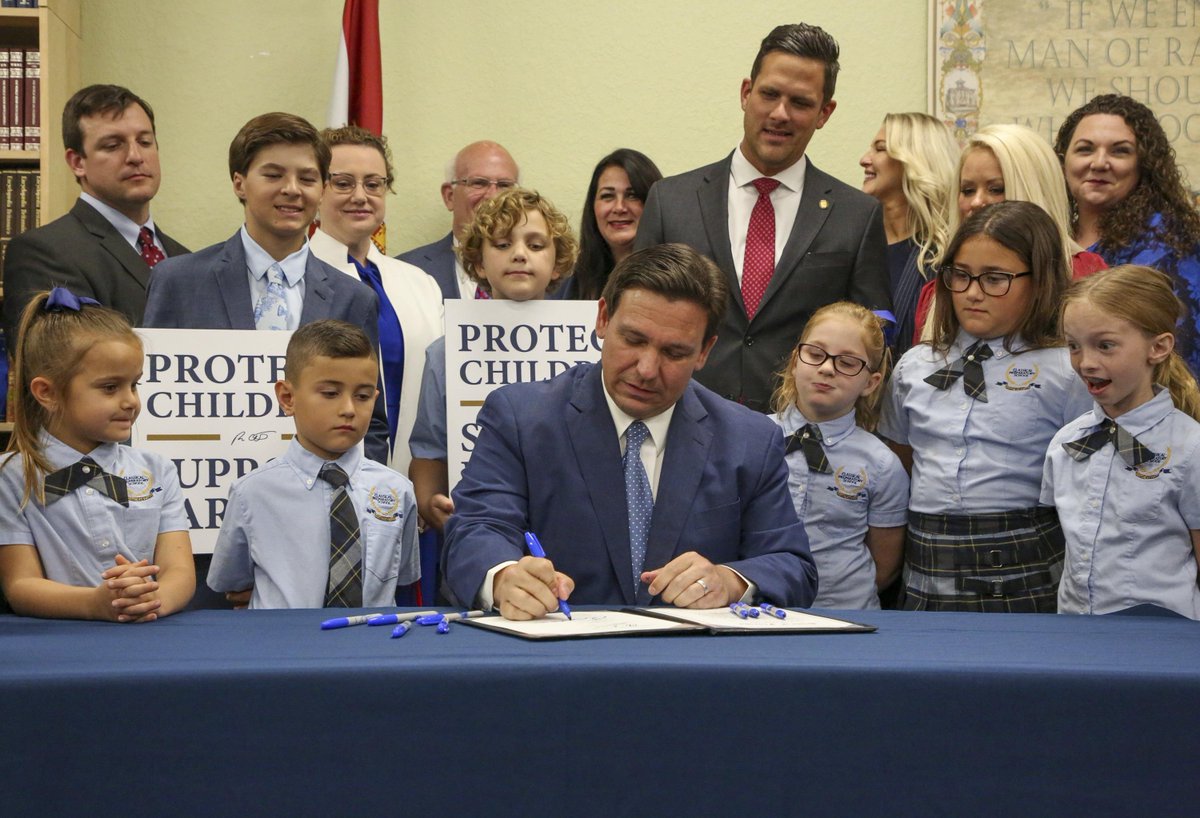 Critical Race Theory (CRT) is a body of academic work that originated in law schools in the 1970s and 1980s. Conservatives have only recently started calling all discussion of racism "critical race theory," but it's not clear how they found it in elementary school math textbooks. Asked to list examples from "woke" math textbooks, DeSantis couldn't point to a single example. nor has he been able to accurately definite what CRT is.
The Bible depicts incest, rape, sexualization of children (Lot), slavery, genocide, etc. Under DeSantis' "Stop Woke Bill" the Bible should be banned because it "imposes oppressive ideologies upon people without their consent." That's what he said his bill is against. pic.twitter.com/O2tsJUWj8Y

— ᒪᗩᑎᑕᗴ 🏳️‍🌈 (@LanceUSA70) April 24, 2022
In his complaint, atheist activist Chaz Stevens cites examples directly from the Bible to prove that it's "too woke" to be available to young students. Listing multiple examples of "prohibited content," Stevens backed up his assertions with chapter and verse. "With the constant concerns about teaching Critical Race Theory, should we not take stock of the Bible's position on slavery? I am concerned our young white students will read such passages and wake up to civilization's sordid past," he wrote in his complaint.
Guess Florida Republicans would prefer parents read their children Bible stories instead of taking them to Disney.

DeSantis went as far as promising he would put on the full armor of God to fight woke leftists.

The Bible: I got this 👀👇 pic.twitter.com/SfGDzE6rEz

— Lulu 🇦🇺 💫 🇺🇸 💞 (@FLOA_MissLinda) April 25, 2022
"If they're gonna ban books, then the whole library should be in play. My hope — and it's a longshot — is that they will apply their own standards to themselves and ban the Bible," Stevens told the Miami New Times.
BREAKING: Florida atheist group turns the tables on DeSantis, officially petitions school districts to ban the Bible from classrooms due to its "age-inappropriate" depictions of bestiality and rape — and the "woke behavior" of Jesus. #DeathSantis #DontSayGay #FloridaMan

— Tammy 🌊❤️🐝☮️🎭🎬🌎🌈☯️ (@BlueWaveTwuzzy) April 24, 2022