'At Least You Pretended to Try': GOP Gives Trump Made-Up Award
Donald Trump is so jealous of his beloved predecessors in office that he's often tried to emulate their many awards and honors, often to abject ridicule from the masses. But that didn't stop him from having a mockup of the TIME Person of the Year cover made with his image or pretending he wasn't telling his friends to keep nominating him for the Nobel (which he often misspelled as "Noble") Peace Prizes he definitely didn't deserve.
Now that he's been out of office for a whole four months, many of the Trump faithful have begun making special trips to their personal Mecca, aka Mar-A-Lago, to kiss the ring and make sure their secrets are still safe with him. The latest person to make the trek didn't have too far to travel, and he came bearing a gift from the Republican Party: a…bowl.
Technically it was an "award" that Rick Scott bestowed upon the former guy, but the photo that came with the announcement just looks like a guy wandered off the golf course and into the dining room while they were setting up for dinner, and the manager took a picture with him while he helped set a table. In reality, it was taken at the same event Saturday evening where Trump called Senate Minority Leader Mitch McConnell a "dumb son of a bitch." But the National Republican Senatorial Committee (NRSC) promoted the event by retweeting Scott's photo on Monday and conveniently ignored the attack on McConnell.
Trump is the first recipient of the "Champion of Freedom Award", which is described in the press release along with that photo, and it reads like "this award was created to fuel one specific person's crumbling ego."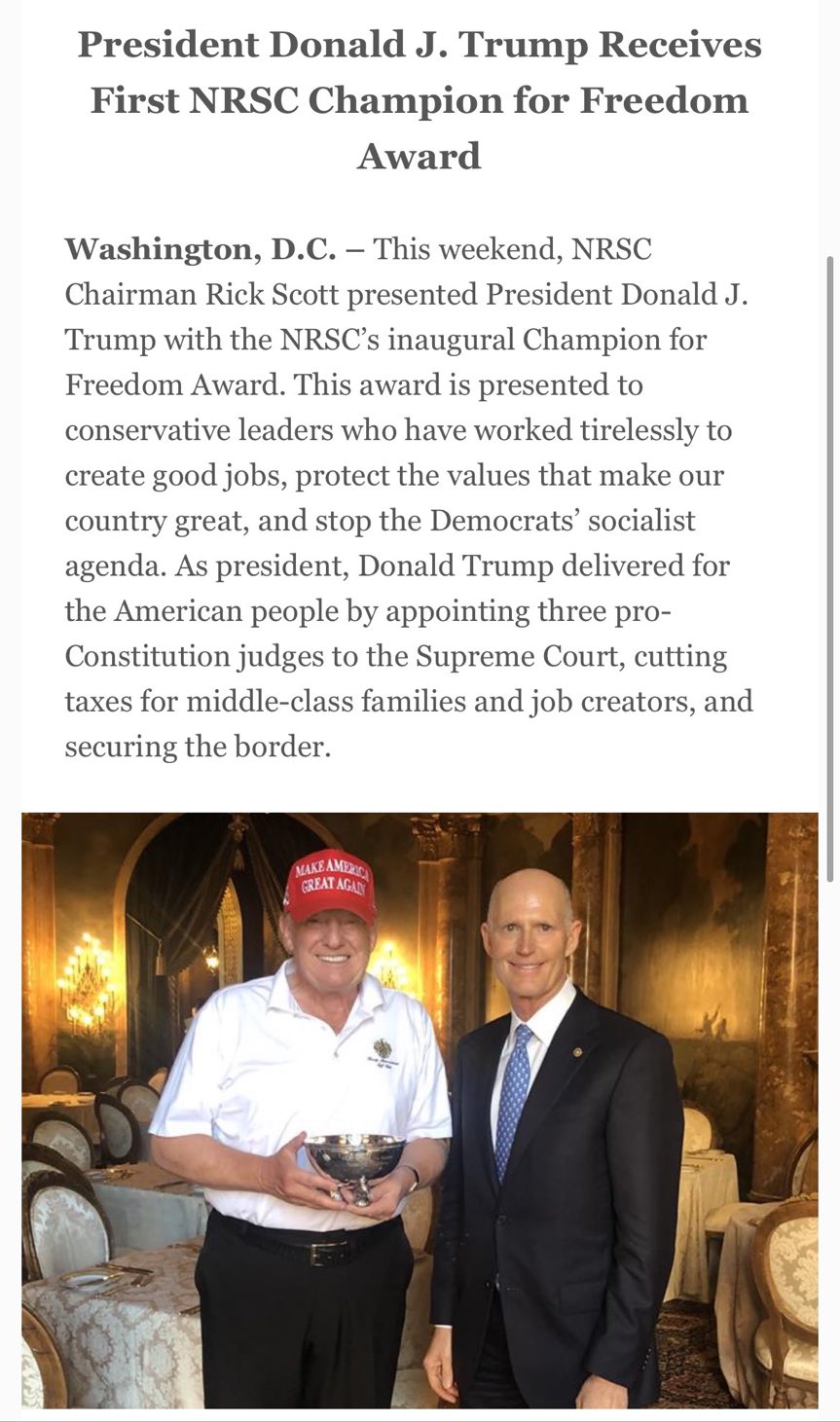 Twitter snarkily accepted the award on Trump's behalf.
Trump got the Calling Mitch McConnell a Dumb Son Of A Bitch Award. It's very possible I was one of this award's previous winners.

— Mr. Newberger (@jeremynewberger) April 12, 2021
How pathetic.

GQP Seditionist Rick Scott just gave a tiny bowl to Agolf Twitler as a fake champion of freedom award. You'll remember that Scott committed the largest Medicare fraud scheme in US history, so a crook would recognize a crook.

Pathetic.

— Ricky Davila (@TheRickyDavila) April 12, 2021
Not only did Rick Scott and @NRSC give Trump a made-up award but they also made sure it was small enough to fit in Trump's tiny hands

That was very considerate pic.twitter.com/CVzRjpbEbz

— Jonathan Jewel (@jonathanjewel) April 12, 2021