'A Decisive Moment in History': VP Harris Acknowledges 'Real Possibility' of War in Eastern Europe
Acknowledging "the real possibility of war," Vice President Kamala Harris wrapped up a weekend of outreach to America's European allies with a push to fortify the West's resolve in confronting Vladimir Putin with crippling sanctions as increasingly dire signs suggest Russia's imminent invasion of Ukraine.
Appearing at the annual Munich Security Conference, VP Harris made her case to American allies that rapidly escalating tensions on the Ukraine-Russian border meant European security was under "direct threat" and there should be unified support for economic penalties if the Kremlin invades its neighbor. VP Harris addressed the annual Munich conference the day after President Joe Biden said he was "convinced" that Putin has made the decision to invade neighboring Ukraine.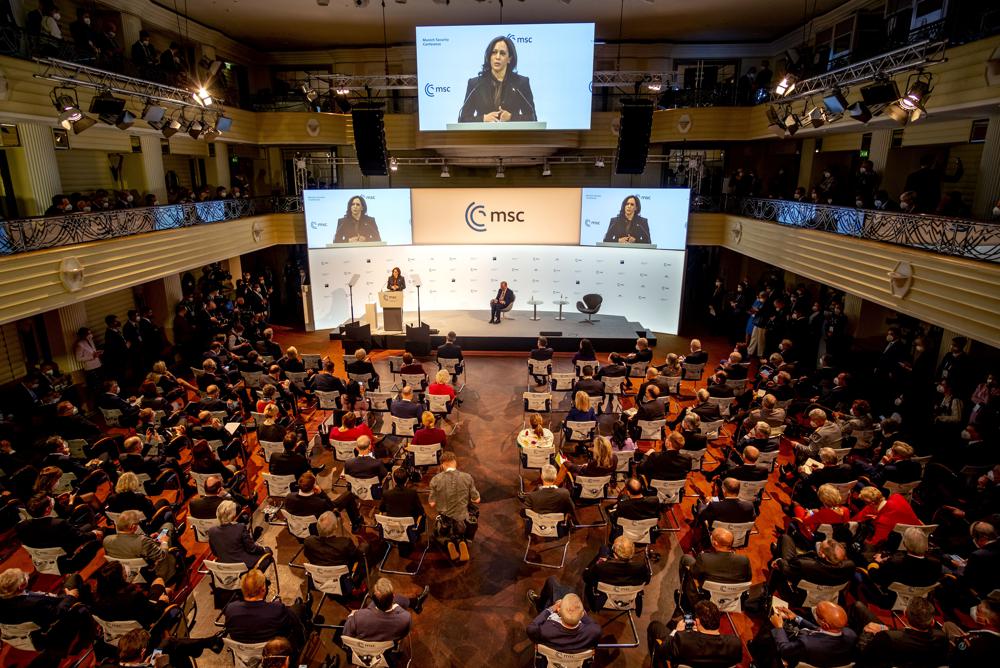 During a private meeting with Ukraine's President Volodymyr Zelenskyy, VP Harris vowed that the U.S. was committed to Ukraine's sovereignty. The Vice President also used her address to the conference to reiterate the Biden administration's promise to hit Russia with economy-jarring sanctions if it invades Ukraine again, following the 2014 seizure of Crimea. "Let me be clear, I can say with absolute certainty: If Russia further invades Ukraine, the United States, together with our allies and partners, will impose significant and unprecedented economic costs," Vice President Harris said.
We stand together with our NATO Allies. pic.twitter.com/S0fstbWWkV

— Vice President Kamala Harris (@VP) February 19, 2022
"We're talking about the potential for war in Europe. I mean, let's really take a moment to understand the significance of what we're talking about," Harris told reporters before her return to Washington. Europe, she said, might be at its most perilous moment since the end of World War II.
"Their actions simply do not match their words." — 🇺🇸 @VP Kamala Harris on #Russia and #Ukraine at #MSC2022 pic.twitter.com/YgAhfujUsj

— Munich Security Conference (@MunSecConf) February 19, 2022
But with even their best efforts to maintain the peace, the West may be unable to fight the one thing they can't strategize against: Putin's ego. Some pundits claim the Russian leader is simply toying with the world's emotions because he can, as neither threats of extreme sanctions nor pleas for peace have ever changed his tactics.
BREAKING: "We believe that Putin has made his decision. Period," @VP Kamala Harris tells us at press conference in Germany, referring to Ukraine invasion. She says Europe is on brink of possible "war." pic.twitter.com/zatchjnUZc

— Jennifer Jacobs (@JenniferJJacobs) February 20, 2022
President Joe Biden was to meet with his national security team later Sunday in Washington to discuss the unfolding developments. VP Harris planned to participate remotely while flying back from Germany.
We're calling out Russia's plans. Not because we want a conflict, but because we are doing everything in our power to remove any reason Russia may give to justify invading Ukraine.

If Russia pursues its plans, it will be responsible for a catastrophic and needless war of choice.

— President Biden (@POTUS) February 19, 2022
[This is a developing and continuing story, please check back for updates]