5 Counts of Homicide Recommended For Driver in Fatal Waukesha Parade Tragedy
A Wisconsin man was arrested and accused of driving an SUV into crowds at the Waukesha Christmas parade on the city's Main Street, local police officials said Monday.  Darrell E. Brooks, 39, was booked on suspicion of five counts of intentional homicide, Waukesha Police Chief Daniel Thompson told reporters.
City officials identified the four women and one man killed as Virginia Sorenson, 79, LeAnna Owen, 71, Tamara Durand, 52, Jane Kulich, 52, and Wilhelm Hospel, 81. There were 48 additional injuries, which included two children in critical condition, police said. Area hospitals reported treating at least 28 people from the parade, including 13 at Aurora Medical Center in Summit. Aurora said in a statement that three of those patients were in critical condition. Officials from Children's Wisconsin, a Milwaukee pediatric trauma center, said during a news conference Monday that 18 children were treated there, including three sets of siblings. The children range in age from 3 to 16 years old.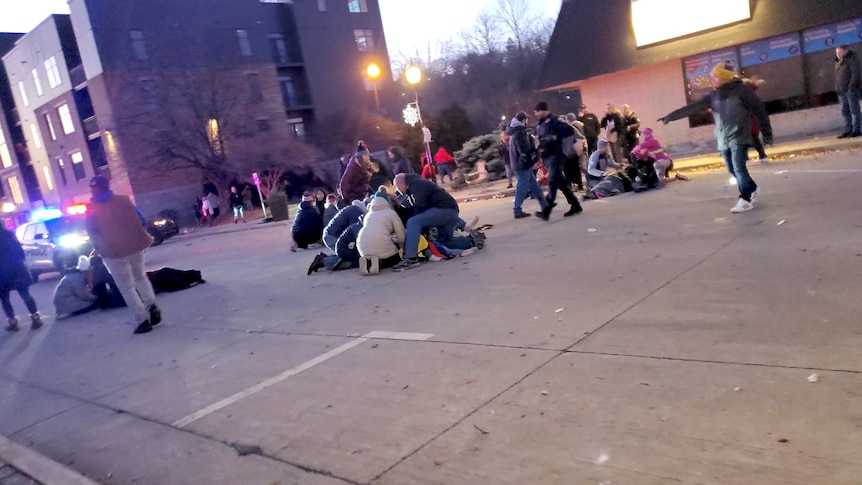 The children suffered from injuries including facial abrasions, broken bones, and serious head injuries. Six children underwent surgery Sunday night, and two more are expected to undergo surgery Monday. Ten children remain in the ICU, and six are in other units of the hospital.
At this time, we can confirm that 5 people are deceased and over 40 are injured. However, these numbers may change as we collect additional information. Many people have self-transported to area hospitals. The Police Department has the person of interest in custody.

— cityofwaukesha (@CityofWaukesha) November 22, 2021
Brooks "intentionally drove his maroon SUV through barricades and into a crowd of people," Thompson said. Brooks was involved in a domestic incident involving a knife before the crash, but it's not clear who the victim was, law enforcement sources told NBC News. Brooks had fled the scene of that domestic disturbance just as officers were arriving and then got redirected to the parade, police said. Video from the scene showed the red SUV speeding down the parade route, then barreling into the crowd while a band was playing. The vehicle went through barricades set up for the parade before striking people participating in the parade.
Waukesha police are calling this a "Mass Casualty Incident" 12+ police units and 12+ fire trucks responding.
People there say police are also transporting victims in police cars. @kaaaaayleen shared this pic of the scene from above and one just before car drove into parade. pic.twitter.com/2e6jS8Bqjp

— Tiffany Alaniz (@TiffanyAlaniz) November 21, 2021
An officer opened fire on the SUV but quickly stopped shooting, believing there were too many people nearby, according to Thompson. No one was hit by gunfire. Brooks was taken into custody shortly after the fatal collisions. "We're confident he acted alone," Thompson said of Brooks. "We have no information that Brooks knew anybody in the parade."
.@POTUS was briefed last night on the tragic situation in Waukesha and he will receive regular updates. Our team is in close touch with local officials to offer any support and assistance needed. Our hearts are with the families and the entire community.

— Jen Psaki (@PressSec) November 22, 2021
Brooks has a significant criminal history and was questioned overnight, with investigators looking into the possibility that the driver had been fleeing an earlier incident involving a knife fight. On Monday, the Milwaukee County District Attorney's office released a summary of pending charges against Brooks, which include charges of second-degree recklessly endangering safety and felon in possession of a firearm from July 2020. In place of a speedy trial, which wasn't possible at the time, his bail was reduced from $7,500 to $500 on those charges. He posted bail in February and was released. Brooks had also posted bail earlier this month in a separate domestic abuse case, court records show.
Pray for Waukesha, Wisconsin.

Several reported injured after a vehicle rampaged through police barricades and the driver began to open fire.

Withhold judgement and speculation AND ESPECIALLY NARRATIVES until the details come out. pic.twitter.com/MrNpebg4ID

— FleX Luthor Political BadGuy – flexyoursuccess.com (@ReturnOfTheFleX) November 21, 2021
The previous charges include resisting or obstructing an officer, bail jumping recklessly, endangering safety, disorderly conduct, and battery, the records show. He appeared in court on November 12th and is scheduled for another hearing next month.
NEW: Sources have confirmed the person who police believe plowed through the Waukesha Christmas parade is Darrell Brooks Jr., 39, of Milwaukee.

Police will hold a 1 p.m. news conference. We will carry it live on @WISN12News.

MORE: https://t.co/fCI88RzlWp pic.twitter.com/z7BwErZ3BQ

— Hannah Hilyard WISN (@Hannah_WISN) November 22, 2021
Five sources in a position to be briefed on the incident said that at this early stage of the investigation, there was no connection to terrorism and no indication that it was in retaliation for the not guilty verdict Friday in the Kyle Rittenhouse trial. An FBI spokesperson said that the bureau was aware of the event but that local authorities would lead the inquiry.