172 Republicans Vote Against Renewing the Violence Against Women Act
The House of Representatives voted on Wednesday to renew the lapsed Violence Against Women Act (VAWA), landmark legislation championed by President Joe Biden. The final tally was 244 to 172, with 29 Republicans voting with Democrats in support.
Originally included in a crime package in 1994 signed by former President Bill Clinton, VAWA primarily used federal grants to help victims of domestic violence, sexual assault, and stalking while trying to reduce those crimes. The bipartisan bill to reauthorize the VAWA was introduced in the House earlier this month by Democratic Reps. Sheila Jackson Lee of Texas, House Judiciary Chair Jerry Nadler of New York, and Republican Rep. Brian Fitzpatrick of Pennsylvania."Domestic violence has surged in this nation. And we now have a moment in history," Jackson Lee told CNN Wednesday ahead of the vote.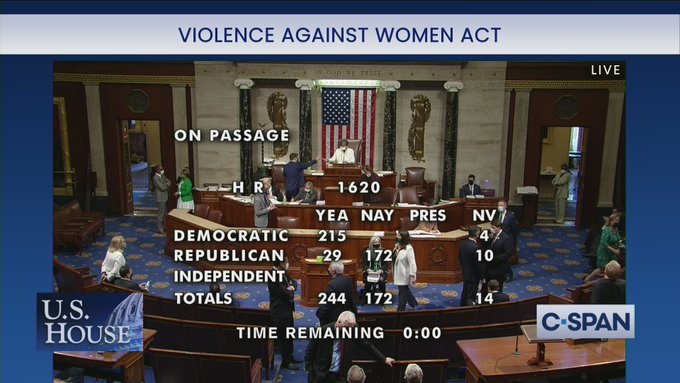 According to a fact sheet from the House Judiciary Committee, the bill would improve and expand aid and services for victims and survivors. The sweeping legislation has been updated and includes provisions to make safe housing more accessible and bolster economic security by ensuring that state unemployment benefits cannot be denied to individuals who leave jobs due to sexual harassment or assault, domestic or dating violence, or stalking.
President Biden has applauded the effort to reauthorize VAWA, saying in a statement on the recent bill introduction that Congress should "come together in a bipartisan manner to ensure swift passage of VAWA legislation in both the House and the Senate."
If you want to know why 172 Republicans voted against reauthorizing VAWA, it's because overlooking and facilitating violence against women is extremely profitable. https://t.co/QvmMvwn1fr

— andi zeisler (@andizeisler) March 17, 2021
"Bipartisan" in this instance meant only twenty-nine Republicans voting to protect American women, not even a full day after a gunman shot and killed six Asian American women in Atlanta.
Passed on a 244-172 vote. All Democrats voted for it, joined by 29 Republicans – while 172 Republicans voted against it. https://t.co/IuAhF5CdxK

— Eric Swalwell (@ericswalwell) March 17, 2021